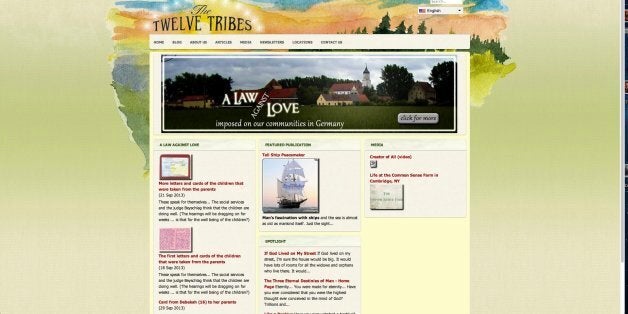 Child abuse experts are investigating a Christian school after it was alleged children are regularly beaten with a cane.
The NSPCC have asked Devon County Council and Devon and Cornwall Police to investigate Twelve Tribes, a Christian sect based at Stentwood farm.
"Caning of children or the threat of caning is a completely unacceptable method of disciplinary action to take with any child," he added.
A spokesman for Devon and Cornwall Police said: "We can confirm that Devon and Cornwall Police and Devon County Council are working together to thoroughly review the recent information received about the welfare of children in the Honiton area."
The Independent also alleged that the Twelve Tribes runs one of the popular cafes at Glastonbury Festival - Common Ground, calling it "an important revenue stream for the sect and a source of new members".
Wolfram Kuhnigk, a journalist with Germany's RTL television channel, secretly filmed six children, some who look as young as four, brought into the cellar one-by-one and beaten. Another undercover film saw a baby being tugged on the back of the head.
Alfred Kanth, spokesman for the youth welfare service in Bavaria, told RTL: "We never had proof that they do this. It is terrible, they preach peace but they beat their children."
Twelve Tribes, which has existed in the US for the last 40 years, and has branches across Europe and North and South America, insist they do not abuse children.
The sect, founded by a Tennessee high school teacher in the 1970s, has about 2,000 to 3,000 members worldwide, according to its website.
They have previously had problems in Germany for violating laws on homeschooling their children.
"We know that some people consider this aspect of our life controversial, but we have seen from experience that discipline keeps a child from being mean-spirited and disrespectful of authority," a spokesman told RTL.
The US-founded Twelve Tribes said in an online statement: "We are an open and transparent community that does not tolerate any form of child abuse. Our children grow up in a loving environment and are educated in the spirit of charity."
The charity has published various cards and letters from children taken into care in Germany, under the banned "A Law Against Love", begging to be returned home to their parents.