There is nothing like a tasty soup to warm your cockles. So for this reason, and to mark World Vegetarian Day, we asked Great British Chefs to pull together some top veggie soup recipes.
Enjoy.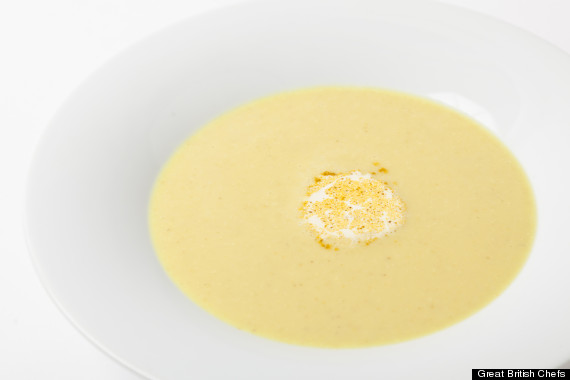 Adam Gray's Parsnip and apple soup
This soup recipe from Adam Gray uses Granny Smith apples to add some tartness against the earthy and spicy flavour of the parsnips. This seasonal soup can work just as well as part of a dinner party menu as it can as a light autumnal lunch. Use a vegetarian cheese instead of Parmesan to garnish if you're preparing this for a vegetarian
INGREDIENTS
500g parsnip
1 onion
2 Granny Smith apples
50g butter
1l semi skimmed milk
150ml single cream
salt
ground white pepper
To serve
grated Parmesan to taste
crusty bread
Serves: 4
Cooking Time: 60 minutes
METHOD
1. Begin by peeling and quartering the parsnips, making sure you remove any woody centres. Peel and finely chop the onion. Then peel, core and quarter the apples
2. In a heavy-based saucepan, heat the butter until it begins foaming. Add the onions and gently cook for 8-10 minutes without browning, stirring occasionally
3. Add the apples and parsnips to the pan, and cook for 5 more minutes
4. Pour the milk into the pan to cover the ingredients. Bring to the boil, and then reduce the heat and simmer gently for 15-20 minutes. Cook until the parsnips are tender
5. Take the soup off the heat and pour the cream in
6. Place the soup into a liquidiser and purée, before passing through a fine sieve. Season with salt and pepper to taste. Serve immediately with a sprinkle of Parmesan cheese and some warm crusty bread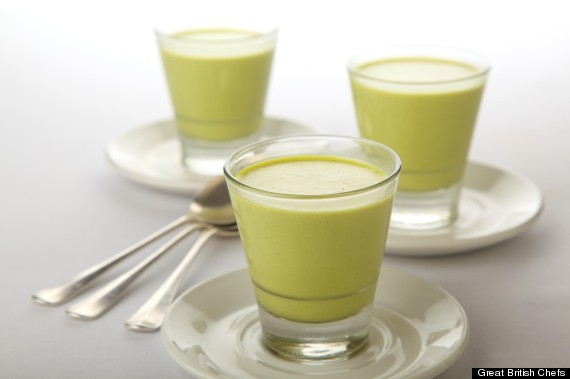 Marcello Tully's Pea soup
The delicious vegetarian soup by Marcello Tully is quick and simple to make. Enjoy with crusty bread or whip up some toasties to create a delicious and hearty meal
INGREDIENTS
1kg frozen peas
50g butter
200g onion, diced
1 tbsp mild madras curry powder
800ml double cream
5g salt
5g caster sugar
1 tsp Tabasco
1 crusty bread
Serves: 4
Cooking Time: 55 minutes
METHOD
1. Melt the butter and add the diced onions to a pan. Fry on a low heat for around 5 minutes, ensuring you stir occasionally to prevent browning
2. Stir the mild Madras curry powder into the pan and cook for 2 more minutes
3. Fill another pot with a litre of cold water and add the peas. Bring the water to the boil and place the lid on. Simmer gently for 5 minutes before draining
4. Place the peas and curried onions into a blender or food processor. Blitz until you have a smooth purée
5. Pass the purée through a fine sieve, using the back of a ladle to gently push it through
6. In a clean saucepan, add the purée with cream, salt, sugar and Tabasco to taste. Bring to the boil and serve with some warm crusty bread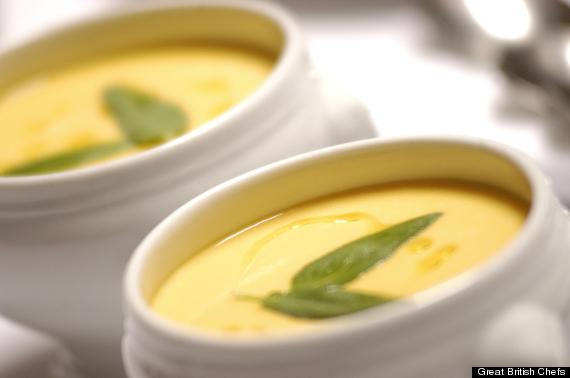 Paul Heathcote's Cream of Pumpkin and Sage Soup
Make Paul Heathcote's warming pumpkin and sage soup as a starter at a dinner party or even as part of a mid-week meal, paired with a slice of crusty bread.
INGREDIENTS
500g pumpkin
1 onion
500ml vegetable stock
1 tsp sugar
1 tbsp cornflour
1 1/2 tbsp water
150ml cream
50g butter
sea salt to season
pepper to season
1 dash olive oil
6 sage leaves
Serves: 4
Cooking Time: 30 minutes
METHOD
1. Cut the pumpkin into large pieces, and place in a hot pan with a little olive oil. Cook for approximately 3 minutes until the pumpkin pieces are lightly coloured
2. Add the vegetable stock, onion and sugar to the pan with the pumpkin pieces. Simmer until the onion and pumpkin are cooked, for approximately 15 minutes
3. Add the cream to the pan and bring to the boil. Mix the cornflour and water together and stir into the pan
4. Leave the mixture to cool for a while. Then place in a liquidiser with the butter, for around 1 minute
5. Return the soup mixture to the pan with the sage and bring to the boil. Season with salt and freshly milled pepper as per your taste. Finish with a drizzle of olive oil and a few sage leaves before serving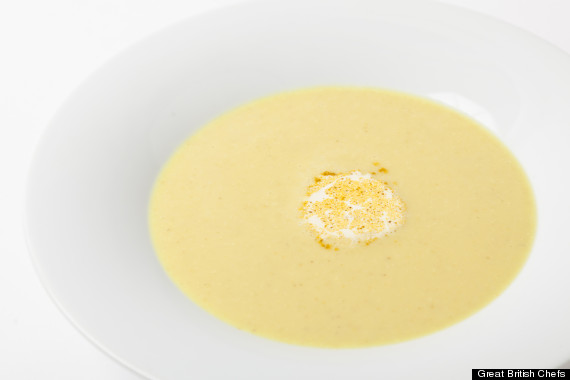 Dominic Chapman's Butternut squash soup
This soup from Dominic Chapman can work as both a dinner party starter, and a warming supper during the colder months. Serve along with toasted butternut squash seeds, wild mushrooms or delicious cheese toasties.
INGREDIENTS
1kg butternut squash
1 large onion
200g butter
1l water
700ml milk
salt
1 pinch cayenne pepper
Serves: 6
Cooking Time: 60 minutes
METHOD
1. Peel the butternut squash and cut lengthways in half. Scrape out the seeds and then use a mandolin to slice the squash as thinly as possible
2. Cut the onion in half, and then peel and slice as thinly as possible
3. Take a large pot and melt 150g of the butter of a low heat. Be careful not to burn the butter. Sweat off the onions and butternut squash in the same pot for 10 minutes over a low heat
4. Turn up the heat and add the water. Simmer for approximately 30 minutes or until the vegetables have completely softened
5. Take the pot off the heat and liquidize the soup. Pass the mixture through a fine sieve and then add the milk to obtain the correct consistency - the soup should be silky-smooth. Be careful not to add too much milk as this will dilute the flavour
6. Finish by whisking the rest of the butter into the soup. Check the seasoning and modify to taste. Stir in a dash of cayenne pepper and serve immediately