Celtc boss Neil Lennon accused Neymar of play-acting over Scott Brown's red card in the 1-0 Champions League defeat to Barcelona.
The home side were reduced to 10 men in the 58th minute when Brown was red-carded by referee Stéphane Lannoy for flicking his leg at the Barça forward after a foul had been given.
Cesc Fàbregas scored the winner in the 75th minute and Lennon bemoaned the "game-changing" sending off.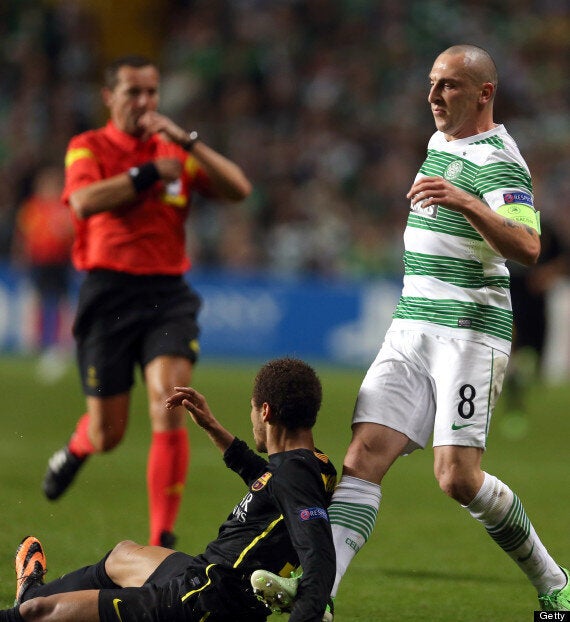 Brown flicks his leg at Neymar
"I think it is very soft. I have looked at it," Lennon said of Brown's red card. "If there was any contact, it was minimal. There was a lot more in a game that warranted heavier punishment.
"I don't think the initial tackle was a severe one. It is a physical game I don't think Neymar does himself any favours with the way he behaves at times.
"Our supporters are very respectful of great players. Iniesta walks off tonight to a standing ovation from the Celtic support. After the incident Neymar gets booed every time he touches the ball."
Brown on Neymar
"It was a game-changing decision. It is obviously very difficult playing Barcelona with 11 players and even more difficult with 10 but we played very well tonight
Lennon acknowledged Brown's petulance but added "there wasn't much in it".
"There is no question it is a foul, but the reaction didn't merit it.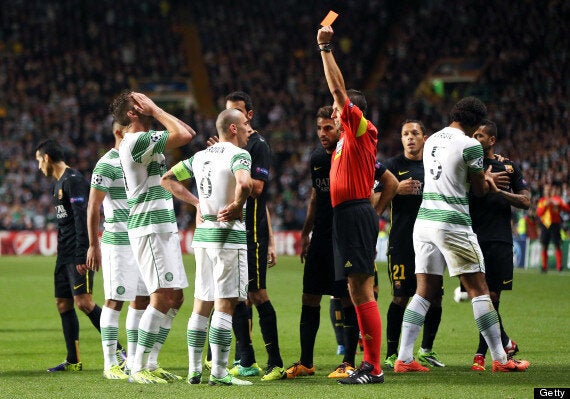 Brown is dismissed by Lannoy
"The referee was going to book Scott for the initial foul but for the tap, if you want to call it that, he has sent him off. Is it violent play or dangerous play? I am not so sure.
Lennon lamented the two opportunities his side had just before Fàbregas headed in from Alexis Sanchez's cross.