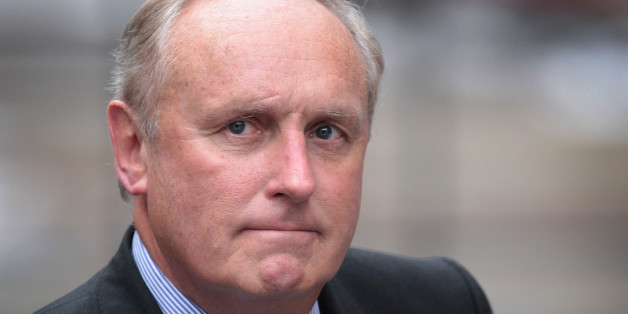 Getty
The five things you need to know on Wednesday 2 October 2013...
1) WHERE'S PAUL DACRE?
From the Huffington Post:
"The Daily Mail's deputy editor Jon Steafel was invited on to BBC Newsnight on Tuesday evening to defend his paper's decision to accuse Ed Miliband's father Ralph of 'hating Britain'. He faced Alastair Campbell, who accused the paper's editor, Paul Dacre, of being a 'bully and a coward' for not appearing himself, sending his deputy instead.
"Campbell, Tony Blair's former spin doctor, said the Daily Mail represented the 'worst of British values' and said its editor was 'a poison in our national life'."
Steafel admitted that it was an "error of judgement" to have used a picture of Ralph Miliband's grave in the online version of its story - prompting a Labour spokesman to demand an apology from the Mail.
Meanwhile, speaking at the HuffPost UK's fringe at the Tory conference in Manchester, Tory MP Zac Goldsmith blasted the Mail over its Nazi past:
"Goldsmith said Miliband had a 'reason to react' to the Mail's 'appalling article' on Saturday - headlined 'The Man Who Hated Britain' - and accused the Mail and its owners, the Rothermere family, of doing 'more to pursue the Nazi cause prewar' than any other publication."
Writing on the front page of the Guardian, Ralph Miliband's biographer Michael Newman says:
"It is a strange to read words taken from a biography you have written, but distorted as the basis of a vicious and offensive attack on its subject. This has been my experience since the publication of the ludicrous article by Geoffrey Levy in the Daily Mail on Saturday describing Ralph Miliband, Ed Miliband's father, as 'the man who hated Britain'."
2) 'PROFIT IS NOT A DIRTY WORD'
That's the splash headline on the front of the Times and the Telegraph, referring to a line from David Cameron's big 'land of opportunity' conference speech today - from the Times:
"Profit is not a dirty word, David Cameron will say today, as he mounts a passionate defence of big business.
"In his speech to the Conservative Party conference in Manchester, the Prime Minister will contrast Tory support for aspiration with Labour's threats of state control.
"'It is businesses that get wages in people's pockets, food on their tables, hope for their families and success for the country,' he will say. 'Profit, wealth creation, tax cuts, enterprise: these are not dirty elitist words.'"
So, Miliband is shifting left and Cameron is shifting right. At least we'll have a proper choice at the next general election...
3) 'ODD' OWEN PATERSON
Watch out Owen Paterson, Zac Goldsmith is gunning for you! From the Huffington Post UK:
"Conservative MP Zac Goldsmith has said it is 'odd' that David Cameron appointed a climate change sceptic to serve as environment secretary.
"Goldsmith, a key environmental campaigner, told a fringe event at the Conservative Party conference hosted by The Huffington Post UK: 'I don't understand the resistance that some people in my party have to climate change.'
"Asked about comments made by Owen Paterson at the conference that there may be advantages to climate change, Goldsmith joked: 'It's a huge step forward as far as I knew he didn't think warming was happening, this is remarkable progress.'
"'I find it very odd,' he said. 'I would prefer, we stand a much better chance of dealing with these issues with someone in that post who understands and accepts our responsibility for climate change, of course.'"
BECAUSE YOU'VE READ THIS FAR...
Watch this video of a woman quitting her job by posting an interpretive dance video on the YouTube.
4) HELP FOR LENDING? MAYBE NOT
From the FT splash:
"Some of Britain's leading mortgage lenders have expressed misgivings about the government's latest "Help to Buy" initiative, leaving Royal Bank of Scotland and Lloyds, the statebacked banks, as the only two to have endorsed the scheme.
"Help to Buy, launched in April, was designed as a government loan scheme to support buyers of new-build houses. But the second phase of the scheme, brought forward to this week from its original launch date of January, offers a government guarantee for higher-risk mortgages on any kind of home.
"... Executives at Barclays appear to be the most sceptical of the big lenders, concerned not only about the lending risks and the capital implications but also about the political risk of ever claiming the government guarantees.
"That scenario could be seen as another bank bailout, bankers fear."
5) D'OH BOY
From the Mirror splash
"David Cameron admitted yesterday that he doesn't know the price of a loaf.
"And he insisted he didn't need to - because he has a posh breadmaking machine.
"The Tory PM revealed he never buys 'value' loaves - unlike millions who regularly pick one up for 47p.
"Labour MP Michael Dugher said: 'He's so out of touch.'"
PUBLIC OPINION WATCH
From the Sun/YouGov poll:
Labour 41
Conservatives 31
Ukip 12
Lib Dems 8
That would give Labour a majority of 114.
900 WORDS OR MORE
Mary Riddell, writing in the Telegraph, says: "Ed Miliband's populism has turned him into the Tories' Red Peril."
Got something you want to share? Please send any stories/tips/quotes/pix/plugs/gossip to Mehdi Hasan (mehdi.hasan@huffingtonpost.com) or Ned Simons (ned.simons@huffingtonpost.com). You can also follow us on Twitter: @mehdirhasan, @nedsimons and @huffpostukpol