Cher and Ellie Goulding will be the first stars to perform on the 'X Factor' live shows this year.
The singers will perform on the first live results show on Sunday 13 October, before the first contestant is axed from the ITV singing competition.
It has also been revealed that the first live show on Saturday 12 October will be eighties themed (dust off those leg warmers) and feature the first ever 'flash vote'. Cher will perform on X Factor
The flash vote will take place at the end of the show, once every contestant has performed.
Viewers at home will have ten minutes to vote for the act they want to save from the bottom two. After voting lines have closed, the contestant with the lowest number of votes will be revealed and told that they face the sing-off on Sunday.
Voting lines for the remaining contestants will then reopen until Sunday night's show where the second contestant to face the sing off will be revealed.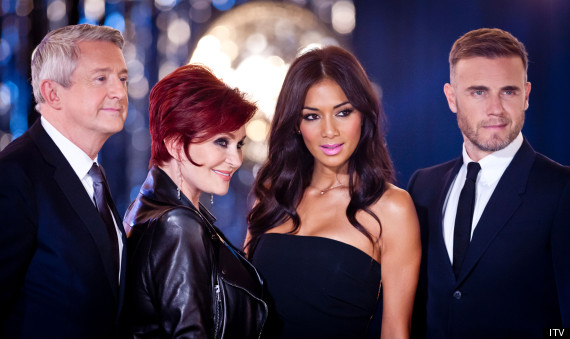 The X Factor judges
'X Factor's first live show - which lasts a mammoth 135 minutes - will have a half-hour clash with 'Strictly Come Dancing', according to schedule details revealed on Wednesday.
PICTURES: 'X Factor' Hopefuls Get Their First Taste Of The High Life At Judges' Houses
'Strictly' is already proving to be ahead in the Saturday night ratings with last Saturday's edition of the show drawing an average of 1.4 million viewers more than the singing contest.
A two-hour edition of the dance show is scheduled at 6.30pm a week on Saturday, while 'X Factor' kicks off at 8pm that night.
The following day 'Strictly's 40-minute results show begins at 7.20pm, going up against an edition of 'Coronation Street' which begins at 7pm, then followed by 'X Factor' results at 8pm.
This weekend viewers will learn which contestants will make it through the judges' houses stage to the live finals of the 'X Factor', while on 'Strictly' the first couple will leave the show.
MORE 'X FACTOR'
LIKE US ON FACEBOOK | FOLLOW US ON TWITTER