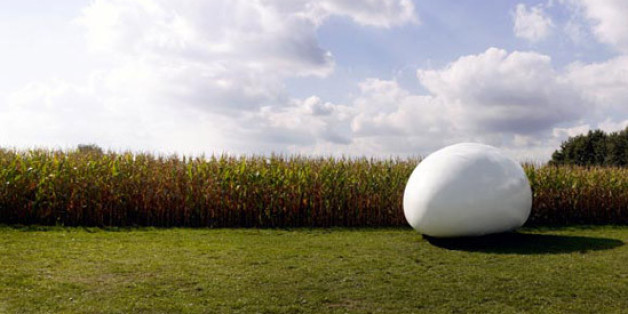 dmvA
For Belgian architects dmvA, living well is often living small. The team was recently tasked with puting that ethos into practice, when they were commissioned by an Italian design firm to build an office extension that was both mobile and small, but convertible into any conceivable use - from a bedroom and bathroom to kitchen, office or artists' studio.
The result was this 215 square feet masterpiece - the so-called 'Blob', which is built almost entirely out of plywood and polyester.
Each wall of the house is made up of curved shelves or cubbie holes with allow you to use them for virtually anything - sleeping inside them as a bed, or using them to store garden tools, office equipment or anything else you can think of. The house opens at one end to give you light and space, while a bathroom is housed in the rear of the egg.
The project took 18 months to complete after its initial 2009 commission and it's now on display at the Verbeke Art Foundation. Find more details about the project over at Design Boom or look inside with our slideshow below.