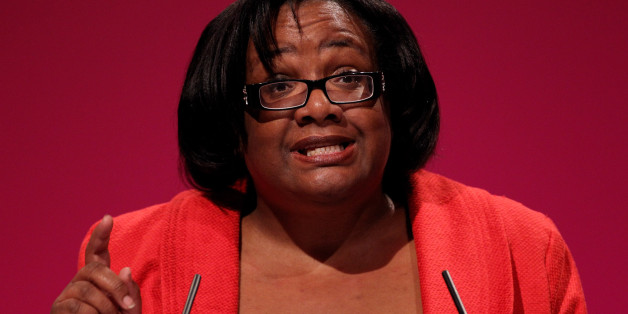 Getty
Diane Abbott has been sacked from the Labour frontbenches by Ed Miliband, and is now urging the Labour leader to take a stronger line on immigration hate speech, telling him there are "no votes" in lurching to the right on the issue.
Abbott, who was shadow public health minister, has been critical of the Labour leadership in numerous interviews. In a blog to mark her departure, she laid into Miliband, saying he was "terrified by the polling on immigration and have convinced him that we have to move right".
The news was first reported by the Guardian, and confirmed by the BBC in an interview with Abbott.
Diane Abbott confirms she has been sacked..."I think Ed wanted more message discipline" #reshuffle

— norman smith (@BBCNormanS) October 8, 2013
"I'll live. These things happen" - a sanguine Diane Abbott after being sacked as shadow health minister #reshuffle

— norman smith (@BBCNormanS) October 8, 2013
In a blog for the Guardian, Abbott said: "I was never on the frontbench in over 20 years in parliament. So it follows I have never been sacked from it before. But this morning I was. Ed Miliband was very nice about it, but there was no doubt what he was saying."
She said she had found Labour's line on immigration hard to swallow as a frontbencher.
"I have long despaired of the downward spiral of Labour's rhetoric on immigration. For instance we should have come out against the "immigrants go home" van far more quickly and more firmly than we did," she said.
"Unfortunately the people around Miliband are terrified by the polling on immigration and have convinced him that we have to move right on the issue. My settled view is that there are no votes for the Labour party in pandering to anti-immigrant sentiment."
She threatened resignation from the front bench in August as Miliband debated whether to support David Cameron's motion for intervention in Syria.
In the end, the decision was made for her, when Miliband decided to oppose the government.
Earlier in the month, the Hackney MP, a one-time Labour leadership candidate, told Progress magazine the Labour leader had not done enough to oppose negative rhetoric on immigration: "I've spoken to Ed Miliband about this quite a bit.
"What weighs with him is the polling which shows what the Tories are doing on immigration is popular and it certainly weighs on other members of the shadow cabinet.
She added: "Not that many members of the shadow cabinet represent a diverse London constituency and views about race and immigration are different once you step outside London if you think about it.
"So I think Ed himself means well and is doing his best but as a party we should do more because, it's what I said, it's a downward spiral."
Abbott has been touted as a potential Labour Mayoral candidate, along with fellow London MPs Tessa Jowell, Sadiq Khan and David Lammy.
LabourList has named Abbott's replacement as the Liverpool Wavertree MP Luciana Berger, formerly the Shadow Minister for climate change.