Weddings are a big deal. An entire day (plus the endless months planning beforehand) given up to celebrating a couple and the rest of their lives together - it's an occasion above all others that is beyond-beautiful in every way.

MyDaily spoke to Joey Greene about the majesty behind her own wedding day and ALL the need-to-know details. Brides-to-be sit back and swoon...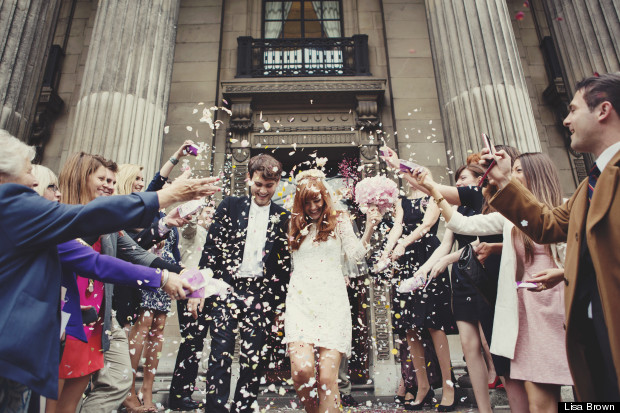 Where was your dress from?
My dress was the beautiful lace Valerie Dress from Minna. I chose it because I wanted something ethical, simple and sexy that I could dance around in and feel free.

Where were your shoes from?
I searched high and low for the perfect sandals which would match the dress and that I could wear again. In the end I decided on some pale pink platform sandals from Dune which I wore everyday of my honeymoon in Italy.

Who did your hair and make-up?
I treated myself to some really lovely products from Liberty and did my own hair and make up.

Where did you get your bridesmaids dresses?
My bridesmaids chose their own dresses. I wanted them all to wear black, but most importantly to feel comfortable in their own style. They each had a floral button hole which matched Mike's and this tied the whole thing together perfectly.

Take a look through Joey's wedding gallery shot beautifully by Lisa Brown of Lisa Jane Photography:


Where was your husband's suit from?
My husband wore Alexander McQueen Trousers, a Burberry bib shirt and a vintage tux jacket which he picked up in Berlin.

Where was your ceremony?
Mike and I got married at Old Marylebone Town Hall, Westminster, London. We chose Marylebone firstly because we used to walk past it everyday when we first started dating, secondly because we wanted a non-religious ceremony and thirdly because we wanted somewhere easy for our friends and family to get to.

Where was your reception?
Our reception was at Hardy's Brasserie just off Marylebone High Street. It is a super cute restaurant with a really relaxed but chic decor. It is light and airy, with a fantastic bar and a great selection of wine. Hardy's is also right next door Paddington Street Gardens which was a great place to take some impromptu group photos and throw the bouquet.

Where was your cake from?
We had a selection of vegan cakes. I made one, my best friends all made one and my mum and grandma each made one too. We had chocolate cake, victoria sponge, fruit cake and fruit tarts.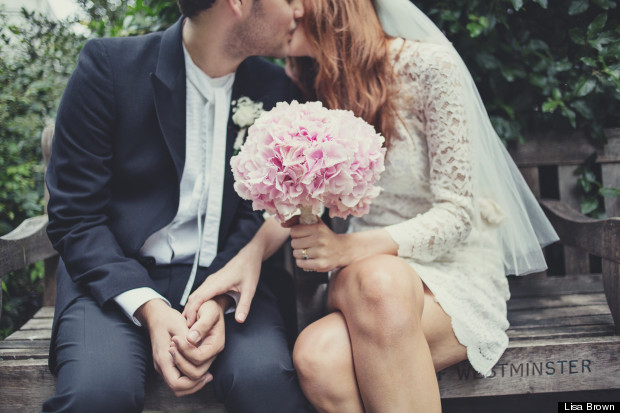 Where did you get your flowers?
The day before the wedding, Mike, myself and some friends visited New Covent Garden Flower Market and bought about £150 worth of garden flowers such as dill, gypsophila, scabiosas, lisianthus, and phlox.

What was the best moment of the day?
Their were two contenders for best moment. Firstly walking down the steps outside Marylebone Town Hall as a married couple with all of our friends and family throwing confetti at us, then giving Mike a huge kiss at the bottom of the stairs. That was pretty magic!

The second moment was after our reception (which we had at lunchtime) when Mike and I left for our honeymoon in the Amalfi Coast. We went to the airport still dressed in our wedding outfits, with me still wearing my veil. When we got there we sat at a little champagne oyster bar and made a toast to ourselves. We were both high on love and it felt very special and exciting.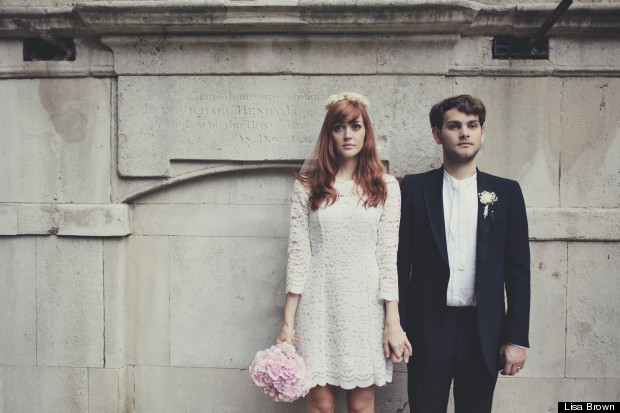 What was your biggest challenge while planning?
Probably just the fact that we wanted to do so much ourselves to make it as thoughtful as possible. I decided I wanted to make little floral embroidery samplers to decorate the cake table, which took me days and days to make! Our friends were wonderful though, and helped a lot in the run up to the wedding and especially setting everything up on the day, and the night before, it was a like a craft production line in our house with everyone making pom poms, cutting ribbons and painting photo frames.

If you could offer any advice to girls getting married this year, what would it be?
Stay focussed on the marriage part of the day. Try not to worry about what anyone else thinks or feel like you have to spend a fortune. Our wedding was very much on a shoe string but everyone who came said it was one of the nicest weddings they have ever been too, I wouldn't have changed a thing even if I had all the money in the world.

Just try and make a memory you can cherish together forever, one that reminds you of why you got hitched in the first place.