A Tibetan- British monk, who set up one of the first Buddhist monasteries in Britain has reportedly been "assassinated" in China.
Police in Chengdu, south-west China, say three suspects are in custody after Tarap Shetrup Akong was stabbed to death, in what they believe was a financial dispute.
The UK Foreign Office said: "We can confirm the death of a British national in Chengdu, China, on 8 October.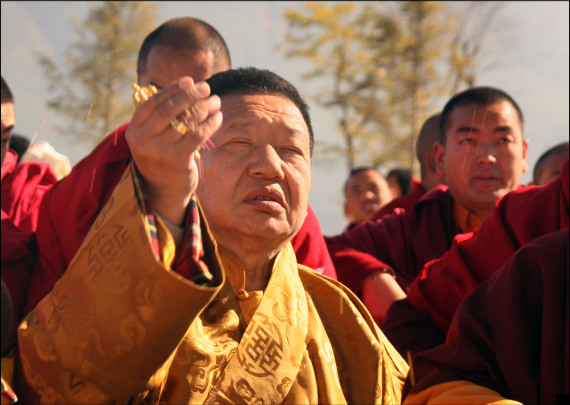 Dr Rinpoche came to the UK as a refugee in 1963
"We are providing consular assistance to the family at this difficult time."
Chinese police said three Tibetans confronted and killed the monk, his nephew and his driver.
Akong Rinpoche - who was addressed as such because of his respected status in the Tibetan Buddhist community - co-founded the Kagyu Samye Ling Monastery in Eskdalemuir Langholm, in the Scottish Borders.
A statement on the monastery's website said: "I am very, very sorry to inform you all that tragically, my brother
Choje Akong Rinpoche, my nephew and one monk who was travelling with them, were all assassinated in Trengdu today.
"Rinpoche's body has been taken to hospital where a post mortem will be carried out."
The Dalai Lama has been told of the death and is offering prayers, the statement said.
Dr Rinpoche attended the 60th anniversary of the signing of the UN refugee convention with the home secretary, Theresa May, in London in 2011.
At the ceremony he told how he was welcomed by the British government and its people when he came as a refugee in 1963 and presented May with a long white scarf endorsed with messages of friendship.