'Coronation Street's scheming David Platt will finally see his family turn against him after his shocking secret is revealed.
David's wife Kylie finally discovers that he was behind the road crash which nearly killed his brother Nick.
Months of lies, started by the fact Kylie had a one-night stand with Nick at Christmas, will come to a head when Kylie reveals the truth on baby Lily's christening day.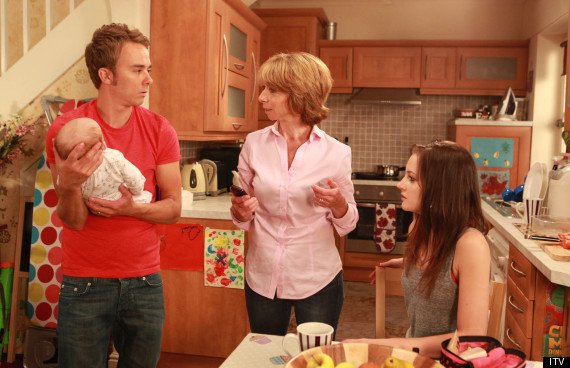 David, baby Lily, Kylie and Gail.
"She fears the Platts will exclude her and push her out and she'll be left with nothing. She thinks that she's more disposable than any of them because to her, blood is thicker than water," Paula Lane, who plays Kylie, told Digital Spy.
She added: "But it's David who is extradited from their home and they all seem to rally around her because she has the children. She gets off quite lightly and David's left with nothing."
The episode will be show in an hour-long special on Wednesday, 16 October at 8pm on ITV.
LIKE US ON FACEBOOK | FOLLOW US ON TWITTER