An events company has been branded "disgusting" for making a video which discusses raping students in order to promote a night out.
Tequila UK holds a night at MEZZ club in Leeds called "freshers violation", which features a "jailbait" cage. On its promotional video, its staff asked male students how they were going to "violate" a fresher. The video's presenter also asked one girl, "How are you going to survive violation tonight?", leaving her nervously stuttering and unable to answer the question.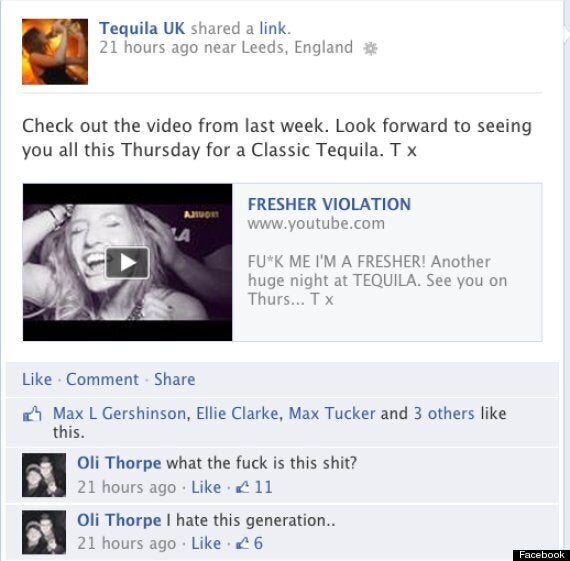 The club promoters advertising the video on Facebook
Below is an excerpt from the transcript:
Presenter: "How are you going to violate a fresher tonight?"

Student: "I've got one here with me who's just disappeared.. There she is."

Presenter: "And what are you going to do to her tonight?"

Student: "Well she's paying for the cab, she's paying for the drinks."

Presenter: "Strong."

Student: "She's going to get raped."
One student says: "I'm going to fist them in the arse. They won't even know," with another adding: "Violate is a very strong word. I'm going to take advantage of someone."
The presenter, who wears a Tequila UK t-shirt, also asks one student: "How are you going to bring girls back to your little den?" He then goes on to ridicule a male who says he is a virgin.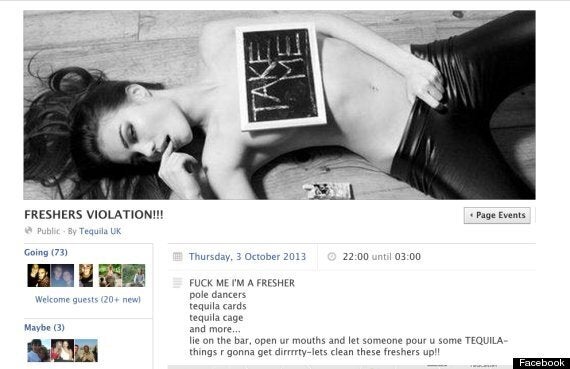 The club night's Facebook page
Students vented their anger at the video on Tequila UK's Facebook page, saying: "WTF is wrong with you guys? Your idea of advertising a club night incudes footage of guys describing how a girl will "get raped" and how they will "violate" and "take advantage of" freshers? Shameful."


Another student wrote: "What made you think that advocating rape and sexual assault was ever an okay thing to do, let alone in a poor attempt to promote your club nights? This is the definition of rape culture. Disgusted."
A spokesperson for Tequila UK posted a statement on Facebook reading: "This video has been removed whilst we investigate thoroughly.
"We do not normalise, excuse, tolerate or condone rape or sexual abuse of any sort. Tequila has promoted a safe environment for students to enjoy themselves responsibly for the last 21 years. We will continue to maintain our duty of care as we always have done.
"We apologise for any offence that has been caused."
The manager of Mezz club told HuffPost UK: "We do not deal with promotions. The video was made by an external promotion company."
He added he had not seen the video, and when asked if they would be continuing to host Tequila UK's nights, replied: "No comment."
Leeds University's RAG committee has since distanced itself from the club due to the video.
A spokesperson said: "Unfortunately, due to the events of this week Leeds RAG will no longer be collaborating with Tequila on Tuesday's Safer Sex Circus. We feel the footage released on Monday night was irreconcilable with the message of safer sex and the ethos of Leeds RAG."
Tequila UK could not be reached for further comment.
Related