If Willy Wonka (Gene Wilder era), Oscar Wilde and Austin Powers ever had a love child (yeah, yeah I know it's far-fetched and biologically impossible but stay with me here) then I think the gent on the right in the pic below would be the result. Well, once he'd grown up a bit.
And for the non-eagle-eyed slash non-headline readers slash non die-hard fans among you, let me get the introductions out of the way.
Ladies and gents, I give you… Mr Marilyn Manson.
Marilyn Manson on the set of Eastbound & Down. Credit: Liya Vaudeville pic.twitter.com/hvv1JNBAGe

— Manson Wiki (@mansonwiki) July 25, 2013
Yes. I KNOW.
The 44-year-old singer - who we're used to seeing looking a bit more like this…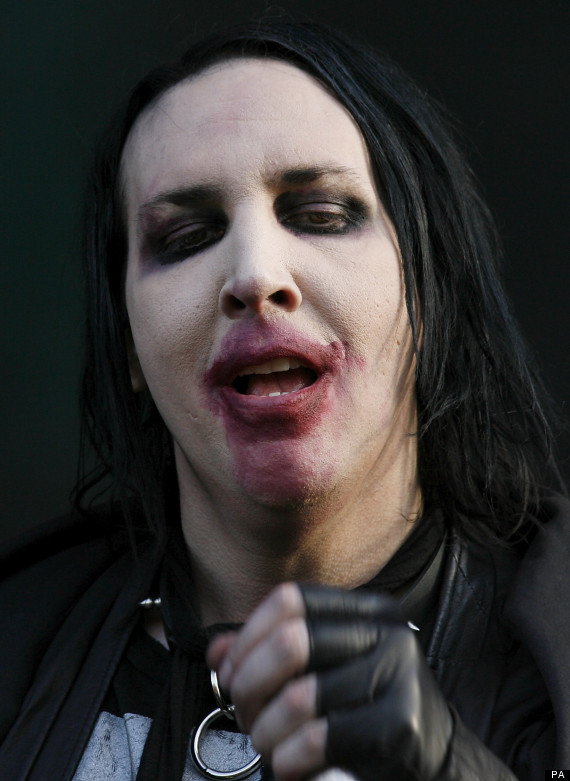 ...was captured sans make-up and boogly contact lenses on the set of US TV series 'Eastbound & Down', which he has a cameo in.
And unless I'm very much mistaken, Marilyn is a secret ginge.
Up until now, only a few of Marilyn's nearest and dearest including ex-girlfriends Dita Von Teese and Rose McGowan knew what he looked like without his warpaint and stage clothes.
And without all of that get up on, it comes as no surprise whatsoever that his real name is errrm, Brian.
Perfect.
FOLLOW BAGGERS BITES ON TWITTER