Ford have demonstrated "pioneering" new technology that could make vehicle collisions a thing of the past.
The car maker's prototype "Obstacle Avoidance" system takes control of a car when the driver is distracted or incapacitated and approaching an obstacle.
To see if it works, HuffPost UK went to Ford's proving track in Lommel, Belgium where we got into a car and were driven towards a mock vehicle at 50kph (31mph).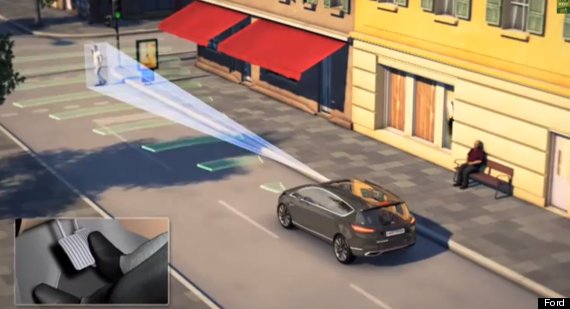 The system constantly monitors the space all around the vehicle
Then the driver took his hands off the wheel...
Sure enough, as the obstacle approached, radar and camera sensors detected it and issued warnings in the form of LED flashes, an audio alarm and by vibrating the brake pedal.
When none of these were heeded the car took matters into it's own hands, swerving around the car and then instantly swerving back into line.
It was an impressive - if somewhat unnerving - display which we repeated a number of times.
Bard Samardzich, vice-president of product development at Ford's European division, said: "You're driving down the road and a pedestrian or something comes out from either side of your vehicle from your peripheral vision where you don't have a good look at it.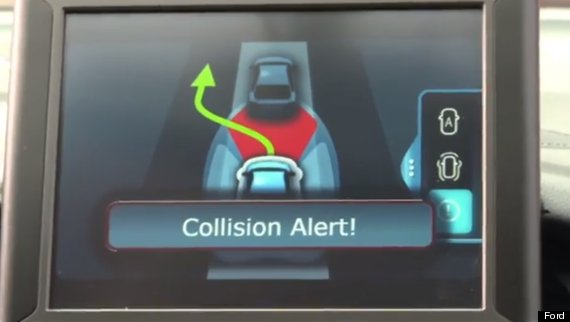 The system will only take control of the car if numerous warnings are ignored
"Obstacle Avoidance can sense that the pedestrian or that object is coming across the front of your vehicle. If it doesn't sense you responding accordingly in your vehicle by braking or manoeuvring, it will take over."
The technology obviously has implications for situations in which a driver was drunk or taken ill.
It's also intelligent. It can scan up to 200m ahead and if a space is detected to swerve into it will simply apply the brakes.
It can also distinguish between genuine obstacle such as pedestrians and cyclists and objects that perhaps wouldn't warrant an emergency manoeuvre - an unfortunate rabbit for instance.
The system builds upon the already available "Active City Stop" which will apply the brakes but only if the vehicle is travelling less than 30kph ((19mph).
Although no release date has been set for the system, it is being seen as another step down the route to fully autonomous, driverless cars.
Ford also demonstrated their self-parking cars.
Simply drive up to a space, get out and hold a button on the keys and the vehicle will park itself perfectly - invaluable in a narrow parking space where you might not be able to get out the doors.
Although impressive, Ford is not leading the race to develop self-driving technology.
Back in January, Audi showed off a self-parking car while Google's autonomous vehicles have clocked up hundreds of thousands of miles around Nevada, Florida and California.
However, two major obstacles remain.
Firstly, legislation has to catch up with technology. So far only Nevada, Florida and California have passed laws allowing self-driving cars on the road.
Secondly, consumers have to be convinced the technology is safe - as I can attest, entrusting your safety to a computer is an unsettling experience...