A petition has been set up to close the club night responsible for a pro-rape video - but the event promoters have insisted they want to "change for the better".
On Tuesday, Tequila UK was exposed as having promoted a video featuring a student speaking of his intentions to rape a woman. The company, which describes itself as a "spirit fuelled den of hedonism and debauchery", had the video made to promote its night "Fresher Violation", which was held at Leeds venue the Mezz Club.
Click here for more information about the 'freshers violation' video.
The "disgusting" promotional video, which has since been edited, saw a presenter ask a student: "How are you going to violate a fresher tonight?"
The student then replied: "She's going to get raped."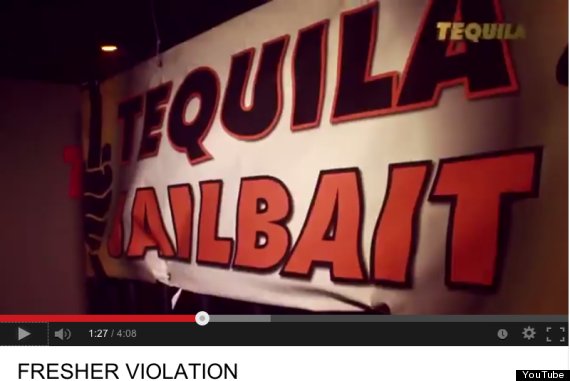 The club night had a "jailbait" cage - which was featured on the video
A campaign has now been launched urging the Mezz Club to stop hosting Tequila UK nights, and Leeds City Council has vowed to investigate:

The petition, started on Change.org by student newspaper Leeds Student, has already had more than 500 signatures. Jennie Pritchard, lifestyle and culture editor of the paper, told The Huffington Post UK: "Tequila has often relied upon misogyny and shock tactics to attract attention however its 'Freshers Violation' video was a step too far.
"In encouraging punters to describe how they would rape female first years, Tequila insults the experiences of women who are sexually assaulted every day, by strangers, partners and friends."
The paper alleges Tequila UK has "long relied on debasing women to increase its profit".
"The company's recent 'Freshers Violation' video promotes rape, the violation of women and proves that they don't care about the safety of their customers."
SEE ALSO:
HuffPost UK was contacted by several students wishing to express their concern about the video. Rebecca Johns, a 21-year-old student at Leeds University, said she was "shocked" by the material which "glorifies rape".
"It is disgusting that vulnerable, drunk students are exploited in this way," she told us. "On Tequila UK's Facebook page, a promotional image of their night is a half naked girl with a poster saying 'Take Me' over her boobs.
"What kind of respect does this give to women!? What does this inspire women to be, and how does this encourage men to view women!?"
Although she does not attend Leeds, Oxford University student Alice Nutting also got in touch: "I was horrified to watch the censored version which they proudly advertised on their Facebook page featuring shots of girls in 'violation cages' after being asked how they would "survive violation".
"The whole thing was like some kind of meat market," Nutting continued. "I was even more horrified to learn that there was an even worse version which included descriptions of how girls were going to be "raped", "violated" and "taken advantage of". Using rape and sexual assault as a marketing tool is inexcusable. It's taking 'lad culture' to a whole new level."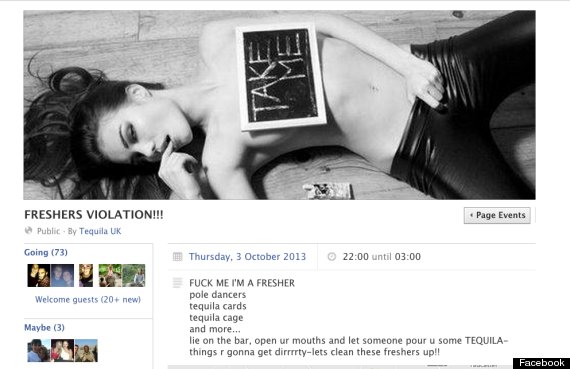 The club night's Facebook page
A statement sent to HuffPost UK from Tequila UK read:
"We recognise that there has been a lot of questions raised about the way we promote, manage and market our club nights after a video from one of our fresher's events, with content that can only be described as deplorable and completely despicable, was uploaded to our Facebook page.
First of all, we wish to apologise unreservedly for the offence that has been caused and would like to explain, without trying to excuse, a little about who we are, what we stand for and how we hope to change for the better as a result of this situation..
..As is standard at all of our club nights, we invite an external videographer and student presenter to capture the spirit of Tequila..
..Until now, we have entrusted editing rights to the videographer after the event.
However, we profusely apologise for the content of our latest video which we recognise was completely unacceptable. The interviewer was wrong to pose the questions he did, the responses were in turn deplorable and the choice to include such discourse was equally inexcusable. As soon as we were aware of the posting, we removed the video and apologised.
We categorically do not think it is acceptable or appropriate to normalise, excuse, tolerate or condone rape or any sexual offence of any sort and we are taking this situation very seriously."
The company added it was "listening" and putting procedures in place to change its policies.
Leeds MP Hilary Benn has now been urged to get involved in closing Tequila UK down. A letter from Leeds City Council employee Amy Smith, seen by HuffPost UK, requests the Labour MP's support in "addressing the growing 'rape culture and 'rape banter'.
"I cannot believe these phrases even exist," she adds. "I wonder if there is anything that can be done to close down Tequila UK or to at least get its vile practices removed from Leeds."
At the time of publishing, Benn was not available for comment.