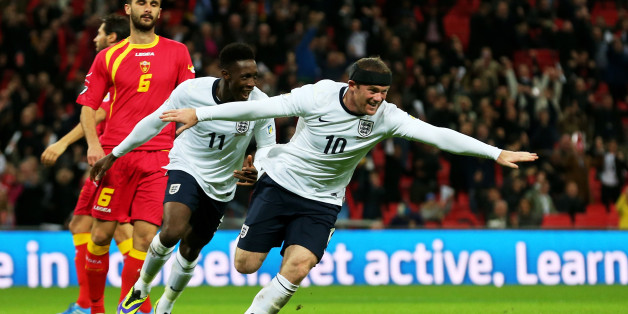 Getty
England beat Montenegro 4-1 as they edged closer to securing their ticket to the 2014 World Cup in Brazil.
Wayne Rooney, a Branco Bošković own goal, Andros Townsend's debut screamer and Daniel Sturridge's penalty registered a third Wembley win for Roy Hodgson in Group H.
Here are five talking points...
HODGSON KOWTOWING TO REPUTATIONS
Steven Gerrard and Frank Lampard, England's midfield partnership when Arsenal last won the league (that's 2004), were alongside each other again, subordinating each other and inhibiting the team's play. Quite what else Roy Hodgson expected from two relics is anyone's guess, and like his predecessors he weakened his position by relying on the ponderous pair against the mundane Montengegrins.
After the fiasco in South Africa it is remarkable both players are internationals still, let alone starting. Michael Carrick, a superior and more sophisticated option, might be tempted to call it a day once and for all after another glaring snub.
HODGSON SHOULD TRUST WILSHERE
Roy Hodgson last week preached the importance of "experience" and yet Andros Townsend was granted a debut against Montenegro. It is a pity such thinking does not extend to the midfield, where England missed Jack Wilshere's energy.
Wilshere's form for Arsenal has not been encouraging and he has been bypassed by both Aaron Ramsey and Mathieu Flamini. England, though, have a paucity of midfield options and he would be a more inspiring inclusion ahead of those who started.
Hodgson is perhaps mindful of his mixed display when Scotland visited in August, but friendly football is not a reliable barometer of a player's progression and Wilshere has not featured in enough competitive international matches since he made his debut over three years ago.
ENGLAND PLAYER RATINGS: HAVE YOUR SAY
TOWNSEND ANTIDOTE TO PLODDERS
There was a period in the first 45 where Andros Townsend faded into anonymity. It has been a feature of his lively performances for Tottenham, though his timing on Friday night was alarmingly early.
And that made his man of the match performance all the more satisfying. Townsend was a source of escapism away from the plodding Lampard and forlorn Gerrard and his screamer eased England's nerves ahead of the final 10 minutes.
STURRIDGE LACKED DISPCIPLINE
Hampered by Hodgson's midfield selection, it was unacceptable of Daniel Sturridge, the No.9 to withdraw as deep as the halfway line just to get some touches of the ball. His highly anticipated partnership with Rooney, as is often the case with England, failed to live up to expectations and his rapacious streak occasionally returned.
Theirs is a combination worth persevering with though, albeit with a more mobile supporting cast.
MONTENEGRO ARE PRETTY DREADFUL
It is a clear indication of the England national team's dismalness in recent times that they drew three times with Montenegro on three occasions in three years. Their 27th ranking is immensely kind and they made Gerrard and Lampard look sprightly in comparison when trotting along the Wembley turf.
Some might suggest it is arrogant of those who assume England should beat them, but it is a perfectly reasonable viewpoint. They are a reticent and unadventurous side who will not be missed in Brazil.