Police are investigating the discovery of two corpses in the back garden of a house where neighbours said an elderly couple "just disappeared". The bodies were unearthed in the back yard of the house in a quiet cul-de-sac by officers from Nottinghamshire Police yesterday following a tip off they received last week about an "incident" which is alleged to have taken place in the late 1990s.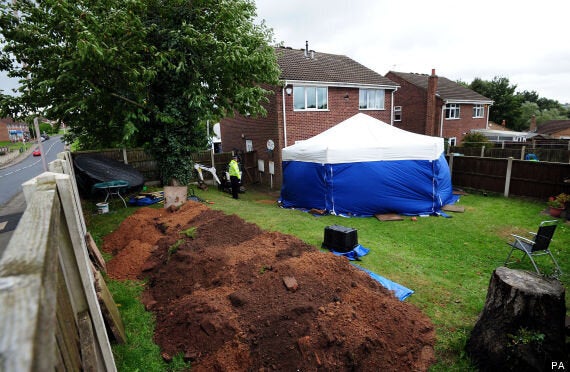 Neighbours said a couple who lived in the house in the '90s 'just disappeared'
Neighbours spoke of their shock and revealed that an elderly couple who used to live at the address in the 1990s just "disappeared", leading them to believe they had emigrated. Officers said it could take "several weeks or months" to identify the bodies, which are believed to have been buried in the back garden of the semi-detached house in Blenheim Close, Forest Town, Mansfield, for some time.
One neighbour, who declined to give her name, said she knew of an elderly couple who used to live at the house in the 1990s. The 51-year-old care worker, who lives in the street with her partner and 16-year-old son, said: "I only saw the man a few times. I never saw the lady or any family.
"I've lived here for 18 years. They were living at the house when I moved in. But they never had any visitors. I never saw anyone coming or going. My friend and I always used to say 'I wonder what happened to that couple'. They just disappeared.
"We thought they had emigrated."
It is thought the house stood empty for a number of years before a new tenant moved in seven years ago. Police have ruled them and the owner of the house out of their investigation. A force spokeswoman said all lines of inquiry are currently being looked at in relation to the circumstances of the incident.
Meanwhile police are continuing to work at the scene. Part of the garden directly outside of the back of the house was covered by a forensic tent, while mounds of earth could be seen piled up against the fence in the garden, with a mini-digger nearby. Another neighbour, who also asked not to be named, said: "It was a shock but the news was more saddening. I'm just glad it wasn't my back garden." Police said it could take weeks to identify the bodies
Post mortem tests are being carried out on the bodies. Inspector Mark Webster, of Nottinghamshire Police, said the two bodies had now been removed from the address. "As a result of information we received in force last week we commenced a search at premises on Blenheim Close in the Forest Town area of Mansfield and yesterday we uncovered the bodies of two people," he said.
"Forensic tests are taking place at this moment to identify who they are, formally." He said the house's current tenant and owner had been "extremely helpful" and were not part of the investigation. Webster would not discuss any further details of the information which had sparked the police search and also refused to rule out whether they were looking for anyone else in connection with the incident. He added no arrests have yet been made.
However, reassuring locals, he said: "We don't believe there is any risk of any harm coming to the community. "People are clearly going to be concerned when an incident of this nature happens and we would like to reassure them and we'd like to thank people, particularly the local neighbours on Blenheim Close, they've been really helpful to us." He appealed with anyone with information to come forward.
Related