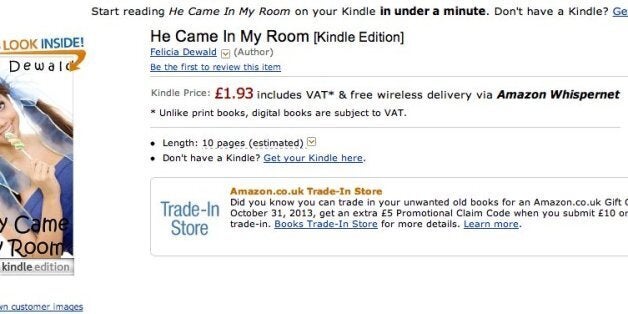 Incest and rape porn has been sold freely by online retailers like Amazon, with titles like "Daddy, Stop, It Hurts", according to a new investigation.
Amazon, Barnes & Noble and WHSmith all sold eBooks with graphic incest porn, according to an investigation by the Kernel. Amazon has begun removing the books highlighted, but many still remain available to purchase. WHSmith and Barnes&Noble say the books appeared on their sites from automated feeds from other eBook sellers, and steps would be taken to remove them.
The ebooks, which include titles like "Taking My Drunk Daughter" and "Taking My Stepdaughter's Virginity", tend to be written by amateurs, under pseudonyms, and promoted on the retailers' sites on a profit-share basis.
The Huffington Post UK has found at least some of the Amazon authors have changed their books' titles overnight. One author writes that her book "He Came In My Room" was originally titled "Daddy Came In My Room".
"I originally published this story under the title "Daddy Came In My Room" - Although the story remains the same, I have changed the title to adhere to the new Amazon search policy," a note on the eBook said.
"If this was a Soho sex shop, I wouldn't take the same view. I am concerned that this is next to things kids could search for."
Mark Stephens, former chairman of the Internet Watch Foundation, claims allowing such content to be sold might be breaking the law: "The directors of Amazon have a very difficult question to answer: why are they making profits from pornography which, on the face of it, seems to be criminal?"
The Kernel found WH Smith selling books called 'Daddy Rapes the Virgin Daughter in the Attic' and 'Raped By The Big Fucking Trucker'.
Barnes & Noble said in a statement the titles highlighted by the tech website were "in violation" of its policy and were in the process of being removed.
"When there are violations to the content policy that are brought to our attention, either through our internal process or from a customer or external source, we have a rapid response team in place to appropriately categorize or remove the content in accordance with our policy," it said.
Nicola Hillman, a spokesman for WHSmith, said: "We were made aware last week that a number of unacceptable titles were appearing on the Kobo website that has an automated feed to ours. This is totally unacceptable and we in no way whatsoever condone them.
"We are urgently working with our eBook partner, Kobo, to remove them from our websites as soon as possible. We will tighten our processes to ensure that this error can never happen again and sincerely apologise to our customers for any offence caused."
In July, Prime Minister David Cameron said the government intended to make it illegal in England and Wales to possess online pornography depicting rape.
Popular in the Community