With winds of 200mph expected to devastate the Bay of Bengal, an area the size of France, aid agencies are desperately trying to get almost half a million people in India to safety.
Cyclone Phailin, which made landfall on Saturday evening, is expected to be the worst storm in 14 years, forcing tens of thousands to leave their homes.
Coconut palms which line the coast have already been felled by the strong winds, hitting power lines and vehicles. An Indian villager braving strong winds and rain walk to a safer place, in village Podampeta, in Ganjam district
In 1999, 10,000 people died in a cyclone of a similar strength. Charities are working fiercely to stop a similar disaster, and authorities have said they are better prepared this time around.
If the storm continues on its current path without weakening, it is expected to cause large-scale power and communications outages and shut down road and rail links, officials said. There would also be extensive damage to crops.
Satellite images of the storm showed its spinning tails reaching nearly 1,000 miles from the east coast of India to the west coast of Burma, an area roughly the size of France.
Dr Andy Turner, from the University of Reading's Department of Meteorology and an expert on South Asia's climate, said that it was "clear this is a very big storm, which will affect hundreds of thousands of people.
"We can expect massive damage when it hits the coast, coupled with major tidal surges.
"Phailin will lose strength as it moves inland because its energy source, the warmth and moisture from the ocean, is no longer there.
"Winds should drop to about 80mph, gusting to 110mph after it makes landfall and reduce to 30mph or less within 24 hours."
Devendra Tak, of Save the Children, in Puri, Odisha, said: "Our plane took four attempts to land in Bhubaneswar on Saturday morning because conditions were so bad - and as soon as we disembarked they shut the airport.
"As we drove towards the coast we passed uprooted trees, damaged houses and towns like ghost towns as most people had been evacuated to cyclone shelters. When we got to the coast the waves were extremely high - the sea was like a cauldron of boiling water.
"It's getting windier and the rain is increasing hour on hour. The cyclone is about to make landfall any time now and we will begin to know the extent of its damage overnight."
Oxfam said that in villages where it works, people have been evacuated to safe shelters.
Its contingency stock of water sanitation materials are on standby and ready for deployment, and Oxfam India humanitarian hub has staff on standby for assessment and initial immediate response in the affected areas.
Speaking from Bhubaneswar, Ghasiram Panda, of ActionAid, said: "ActionAid has authorised the purchase of food, bottled water and other essential items such as soap and sanitary products for evacuees.
"Scarcities of food and a lack of clean drinking water are already being reported by our teams on the ground and with the storm not expected to be over until midday Sunday, protection of children, pregnant women, the disabled and the elderly is a priority."
Dharmendra Naik, a manager of children's charity World Vision in Jagathsinghpur district, said: "Our staff along the coast have been seeing rain falling continuously and winds pick up. People have been trying to stock up on essentials and that has caused the price of many items to be driven higher."
Kunal Shah, the head of the charity's emergency response in India, said: "In a storm of this magnitude there is the potential for widespread damage to crops and livestock in the low-lying coastal areas and houses completely wiped away. So while we are praying this storm loses intensity, we're also preparing."
Several of the charity's programmes are in the direct path of the cyclone. Staff have been alerting communities and providing megaphones, life jackets, torch lights and ropes to the Community Task Force, which consists of men, women and youngsters from within the community who are trained in disaster preparedness including search and rescue, basic first aid and protecting livestock.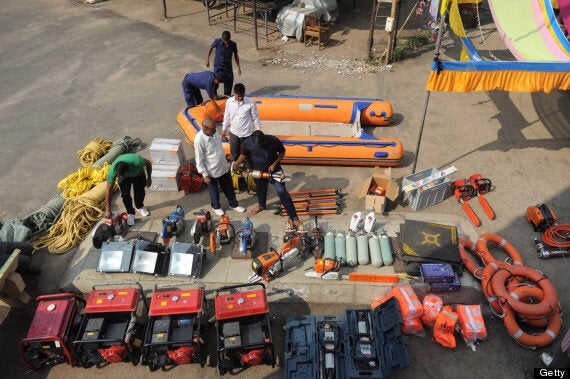 Indian rescue officials from the Ahmedabad Fire and Emergency Services check search and rescue equipment before heading to help people affected by Cyclone Phailin
Save the Children said it was on the ground in Odisha where the cyclone is expected to hit, stockpiling emergency supplies including food, health and hygiene kits and tarpaulin sheets.
Plan International is also in contact with partners in India, ready to intervene to help families affected.
Emergency response manager Murali Kunduru said: "Children are particularly vulnerable during emergencies and their specific needs must be considered by the humanitarian community. Child protection must be the prime concern of the government, relief agencies and parents."
Families directly in the path of the storm have been evacuated to safe areas by government agencies. District heads have been asked to stockpile food, medicine and other aid in case needed.
Kunduru said: "Plan is working in co-ordination with the government and other humanitarian actors to meet the food, shelter, water, protection and education needs of those affected."
The Indian Meteorological Department warned that Phailin was a "very severe cyclonic storm" that was expected to hit with maximum sustained winds of 130-135 miles per hour.
However, the US Navy's Joint Typhoon Warning Centre in Hawaii forecast maximum sustained winds of 167 miles per hour with gusts up to 196 miles per hour.
University of Miami hurricane researcher Brian McNoldy said that Phailin is near the size of 2005's Hurricane Katrina, which killed 1,200 people and caused devastating flooding in New Orleans, and it also has the wind power of 1992's Hurricane Andrew, which had 165mph winds at landfall in Miami.
Popular in the Community