The monstrous carcass of a legendary, eel-like creature, thought to have inspired tales of giant sea serpents, has mysteriously washed ashore in California.
A marine science instructor spotted something fishy when she was snorkelling off the Southern California coast.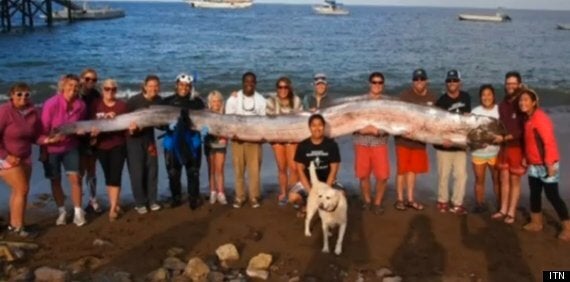 The oarfish is the longest bony fish alive and can grow up to a mammoth 17 metres in length
Jasmine Santana Catalina Island Marine Institute (CIMI) was chilled to her core when she saw a massive eye staring at her from the sandy bottom, the institute said in a statement.
The experienced diver needed more than 15 helpers to drag the giant sea creature to shore.
"She swims down and grabs it by the tail and swims it to the beach. It was awesome. There were people sprinting to go and see this fish."
Waddington said Santana dragged the fish ashore because, she said, "nobody will believe me".
Because oarfish dive more than 3,000 feet deep, sightings of the creatures are rare and they are largely unstudied, according to the institute.