Greek police are desperately trying to identify a young blonde girl who was found living on a Roma settlement with a family she did not resemble.
An international appeal has been launched after DNA tests revealed the four-year-old girl found in a Greek gipsy camp was not related to the couple she lived with.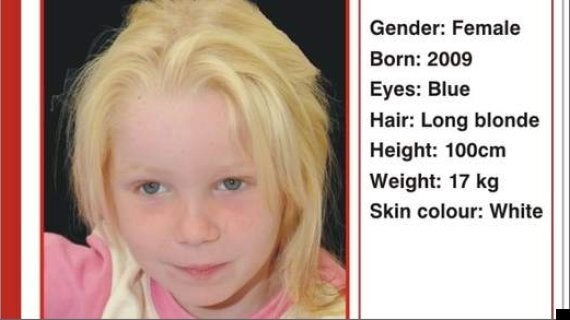 A poster released to help find the girl's parents
The blonde-haired, blue-eyed girl was found by police during a routine raid on illegal activities in Roma camps across the country.
"Her features suggest that she might be from an eastern or northern (European) country," regional police chief Panayiotis Tzavaras said.
Officials fear she may have been a victim of abduction or child trafficking, in a case similar to that of Madeleine McCann, Sky News reported.
A spokesman for the British couple Kate and Gerry McCann, whose daughter Madeleine went missing in Portugal in 2007, said the case gave them "great hope" that she would one day be found alive.
The couple she was living with – to whom she bore no resemblance – have been charged with abducting a minor.
She has now been taken into the care of a Greek charity called The Smile Of The Child, which has put out a Europe-wide alert and released her photo in an effort to help find her family.
The president of the organisation said the child is confused and shocked by the change in her environment, the BBC reported.
Panayiotis Pardalis, a spokesman for the charity, said "it was obvious" that she was not a Roma girl.
"She was afraid and under some psychological pressure when she arrived. Colleagues have been trying to communicate but are struggling.
"She seems to understand Greek but cannot speak it. She was living under bad conditions and was very dirty but is now safe."
Charity director Costas Giannopoulos said the child was undergoing medical examinations.
"There is much more to investigate, there are other registered children that were not found in the settlement, and I believe police will unravel a thread that doesn't just have to do with the girl."
Police have notified Interpol for assistance.
Detectives say they also found drugs and unregistered firearms in other parts of the settlement, which is about 280 kilometers (170 miles) north of Athens.