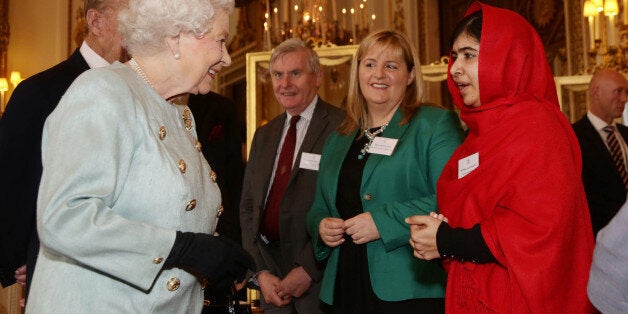 Schoolgirl Malala Yousafzai, who survived an assassination attempt by the Taliban, said her fight for universal education has been empowered as two of her friends who were also injured in the attack joined her campaign.
Malala, 16, was shot in the head while travelling on a school bus in Pakistan last October as her outspoken views on education and women's rights got her into trouble with the Afghan group.
At Edinburgh University today she addressed the first public meeting of the Global Citizenship Commission, a body of leaders representing politics, religious institutions, law and philanthropy.
She was also awarded with an honorary masters degree from the university and the Carnegie Award for Wellbeing for her work promoting education and women's rights.
She was joined in McEwan Hall by school friends Kainat Riaz and Shazia Ramzan. The three, who all now live and study in the UK, met for the first time since the bus attack on their trip to Scotland today.
Malala was guest of honour at the public meeting of the commission, which is a joint initiative between former prime minister Gordon Brown, New York University and Carnegie UK Trust.
She received a standing ovation from the 1,000-strong audience as she lifted her honorary degree into the air.
She said: "Thank you so much for giving me this opportunity to talk to you today. I'm here for the first time and it's really nice to see Scotland, I'm enjoying to see the hills, small hills, because we have mountains in Pakistan.
"After I was shot the terrorists thought that I would not continue the struggle for education, but not only did I not stop my campaign but now Kainat and Shazia are with me and they are also supporting me.
"They are not afraid, we are not afraid and now people are supporting us and that is the greatest courage, and that is the weapon that we have got, the unity and togetherness.
"For achieving any goal, people must be united, they must work together and that is why I feel empowered."
After the attack Malala was treated at Queen Elizabeth Hospital in Birmingham and has now settled in the city with her family.
Her confidence had the audience applauding in Edinburgh as she said: "My studies are going well, I'm in year ten and have GCSEs coming up and hope I will get straight As.
"I also want to go to a university, maybe this one."
Malala raised laughs and applause from the commission and the audience when she told them she wanted to become a politician.
She said: "I have been doing a lot of speaking on education and women's rights so it's really embarrassing when I go to my own school and say to the teacher 'sorry miss I need to miss school for one more day to do some talks'.
"It's hard because then I need to catch up and make sure I do my homework on time. When it comes to tests I need to study hard and make sure I get straight As so that I can become what I want to be.
"I want to be a politician, rather than standing outside the parliament demanding rights I want to go inside and make it happen."
Since the attack she has also addressed the United Nations and was nominated for the Nobel peace prize.
Malala spoke about the importance of education and gave the Queen a copy of her book, I Am Malala. The Queen described her as "wonderful."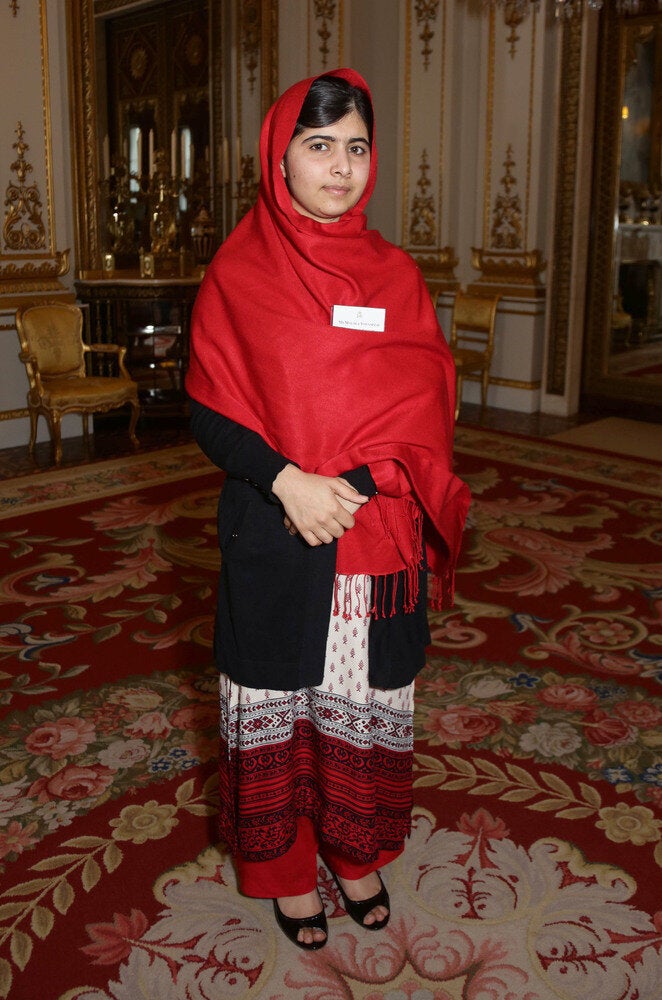 Malala Meets The Queen
Related