Equipped with crutches, a wheelchair and even a body bag, these are the war heroes without a place in the limelight.
This trio of Battlefield Casualties is part of a satirical anti-army recruitment project by artist Darren Cullen.
The figures feature on a poster within Cullen's (Don't) Join The Army comic, which poses the reasonable question: Why would a young recruit want to sign up and potentially lose life and limb in the decade-long wars in Afghanistan and Iraq?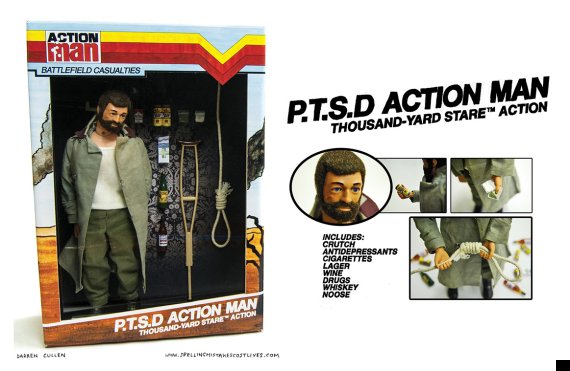 Cullen tells HuffPost UK: "Neuromarketers talk a lot about 'first-imprint', the first time you experience a product has a large effect on how you view it through life.
"That's the reason the army has its own line of toys, it presents armed conflict to children as a positive experience full of fun and adventure.
"The reality is that war is hell and that if you're lucky to come back alive with all your limbs and organs intact, there is often serious psychological trauma to deal with."
Cullen's project was rejected by three printing companies on moral and political grounds, before he found a business willing to take it on.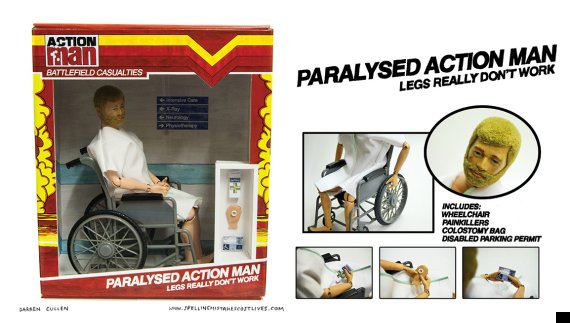 And he's also raised the ire of some EDL supporters, leading the 30-year-old to quip: "Which makes me think I'm doing something right.
"But what they, and I'm sure others will misunderstand about this is that I'm not attacking soldiers. I'm attacking the institutions which use soldiers to kill and be killed in order to achieve political and economical ends."
Cullen's Battlefield Casualties are a brutal reality check and antidote to the existing range of HM Armed Forces Toys.
In the comic, which bears the slogan Army: Be The Meat, Cullen adds: "War is a living hell of suffering, pain and despair, but somehow the Army manages to rebrand it for each new generation as an exciting and character-building adventure.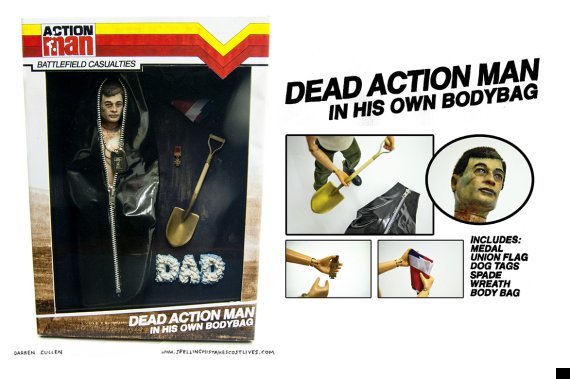 "Despite what they show in their adverts, being in the armed forces isn't about abseiling or kayaking, it's about twisting your bayonet into someone's stomach and having your face blown off in a trench."
In spite of the caustic nature of the comic, it has received support from several ex-soldiers, including Joe Glenton, author of Soldier Box and the first British soldier to refuse to return to Afghanistan on legal and moral grounds, who describes the comic as "brutal but true".
Ben Griffin who served in the British Army from 1997-2005, was deployed to Northern Ireland, Macedonia & Afghanistan with 2 Para, Iraq with the SAS and who is now the coordinator for Veterans For Peace UK, is also on board.
SEE ALSO:
"When I first saw Join The Army I was impressed by how it managed to capture the dark humour of the soldier, the irrational nature of military life and the futility of war. I thought the artist must be a veteran," said Griffin.
"This work is anything but absurd. It is a direct challenge to the heroic nonsense peddled by our media. I hope that the honesty and humour of this work will encourage people to speak more freely about the important subjects the work raises."
Folded in a concertina style, the booklet opens to display a 1.5 metre Bayeux Tapestry version of the Iraq war. The comic is also available as a deluxe edition which contains an extra 12-page mini comic, army related flyers, a poster for Battlefield Casualty Action Man, as well as postcards and stickers.
The work, which can be pre-ordered here, will feature in a public exhibition at the S2 Gallery in Hackney on 25-27 October.