Rihanna may have enjoyed her trip to a mosque in Abu Dhabi, happily posting snaps of herself wearing a head-to-toe hooded black jumpsuit outside one at the weekend, but it seems not everyone was so pleased with the popstar's visit.
Staff at Sheikh Zayed Grand Mosque have claimed they asked the 'Pour It Up' singer to leave the mosque because she did not have permission for her photo shoot.
Photos of Ri-Ri wearing her own version of a burka, complete with an impressive piece of bling and red lips and nails, were posted on her Instagram account over the weekend.
A statement from the mosque, the largest place of worship in the UAE, refers to an "recent incident, involving a singer" but does not name Rihanna explicitly.
The statement, published on The National, reads: "In the event of behaviour that violates the moral codes of access to the mosque, or other visit regulations – such as taking inappropriate pictures, posing in ways that are improper in the context of sacred place, talking loudly, or eating – the violators are directed in a polite manner that reflects the civilisational and tolerant attributes of Islam."
Meanwhile, while on stage in Abu Dhabi, Rihanna opted for an all-white ensemble and kept her head covered with a cap and hood. However, despite dressing more modestly on the UAE leg of her 'Diamonds' world tour, Ri-Ri didn't seem to tone down her dance moves as well...
Of course, this isn't the first time Rihanna's actions have cause controversy. Aside from her chart success and all-round global domination, there has been swearing, drugs and nudity, not to mention a reunion with a certain abusive ex-boyfriend.
Take a look at some of her most outrage-sparking moments below...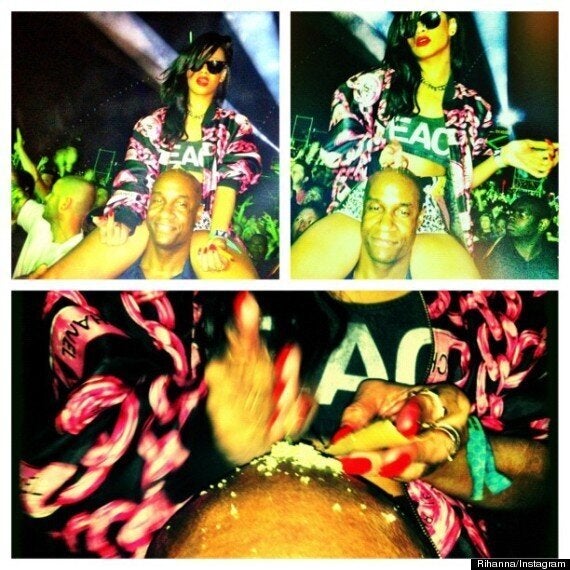 Rihanna's 25 Most Controversial Moments