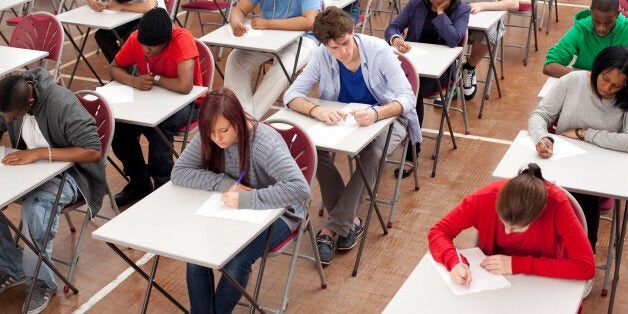 More than half of students' A-level grade predictions are incorrect, according to statistics published on Tuesday, renewing concerns about the current university application system.
Just 48.29% of the grades forecast by teachers last year were accurate, according to OCR, one of England's biggest exam boards.
More than nine in 10 (91.89%) of the grades forecast for summer 2012 were correct within one grade. But more than 15,000 were more than one grade out, the figures show.
The latest results could raise fresh concerns about students applying to university using their predicted grades. Under the current system teenagers must submit their applications before they receive their final results, which means universities often use grade predictions when making offers.
Teachers are more likely to be optimistic about a student's chances than pessimistic, with more than a third (38.7%) of grades over-predicted and 13% under-predicted.


They were better at forecasting higher grades, with 64.36% of A* grades, 62,94% of As and 51.9% of Bs accurately forecast, compared with 46.65% of Cs, 32.06% of Ds and 26.94% of Es.
Private and grammar schools were the most accurate at predicting results, while further education colleges were the most likely to be incorrect.
The data also shows that the level of accuracy in grade predictions has declined since 2011, when 54.65% were correct.
OCR said: "This is at least partly due to the introduction of an extra grade (A*), which increased the probability of an incorrect forecast."
OCR's report says forecast grades were reported by teachers to the exam board before the summer exams season last year, and might have differed from predicted grades sent to the university admission service, Ucas.
The deadline for reporting predicted grades to the board is May, while Ucas receives predictions in January, it says.
"By the time OCR receives the forecasts teachers will have more information about students' potential, as more unit results will be available and there will have been more teaching time," the report said.
The new figures also come amid major Government reforms of A-levels.
Under the proposals, A-levels will become two-year qualifications with exams at the end rather than throughout the course.
AS-levels - which are taken by sixth-formers after a year of study - will be decoupled from A-levels to form a standalone qualification.
AS-level results are used by some universities as an indicator of how a student will perform in their A-levels when making offers of degree places.
Popular in the Community