The bodies of a couple have been found in the foundations of a building site in north-west London.
The "bizarre, tragic accident" happened near Euston station as British Transport Police officer Gavin Brewer, 32, and his boyfriend Stuart Meads, 34, who had worked on The Weakest Link, returned home from a night out.
The two men were reportedly fighting in Hampstead Road, Camden, when they fell into the pit, the BBC reported.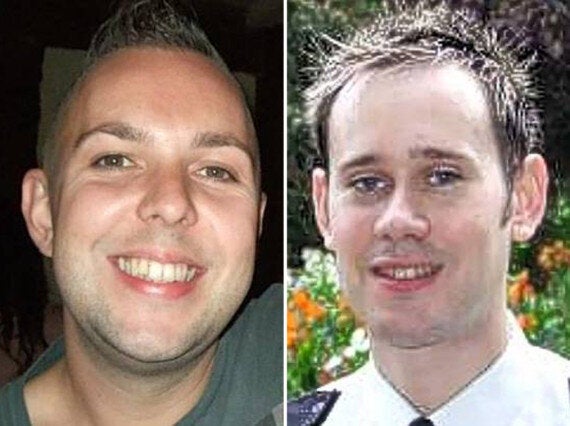 Gavin Brewer, 32, and boyfriend Stuart Meads, 34 both died
Mr Meads's father Stephen, of Egham in Surrey, told the Evening Standard that police had told his family the deaths were a "freak accident".
Mr Baker added: "There is no question of attributing blame to them. It was just a freak accident that could have happened at 2 in the afternoon."
He added: "They were a wonderful couple. They clearly cared for each other a great deal. They had just come back from a tour of Europe. They were very happy and in love, by all accounts.
A shrine of flowers has began to mount at the site with PC Brewer's colleagues visiting the scene in tears. Flowers from children and staff at nearby Netley School have also been left, the Camden New Journal wrote.
Officers called to the area found the men in the foundations of a building site. Their deaths are being treated as unexplained, the BBC reported.
The Health and Safety Executive is also involved in the investigation.
One resident, Diederick Santer, told the BBC it was a "very sad and troubling event".
He said: "Residents are hugely upset that these two young men have died, and angry that a building site, adjacent not only to numerous residential properties such as our own, but close to a large primary school, was unprotected in such a way that two people could so easily fall to their deaths."
He added that the property developers had since made the barrier safe.