Explosive photographs have emerged, showing British army soldiers apparently making Nazi salutes.
They are dressed in camouflage fatigues and have their right arms raised and hands out straight.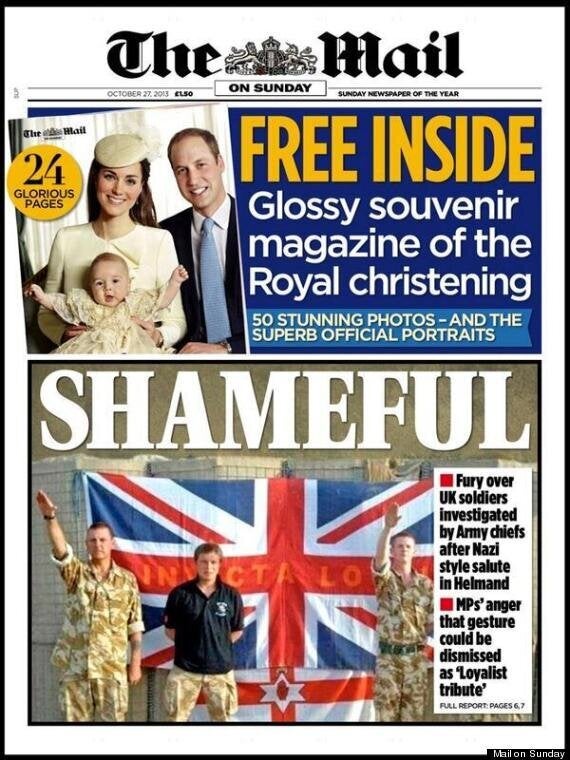 The Mail on Sunday's front page
The Ministry of Defence said the image had been circulating online for some time and said 'administrative action' had been taken at the time.
But the emergence of the photo in the run up to Remembrance Sunday and the salute's association with Nazism has provoked disgust and outrage.
John Mann, chairman of the Commons' All Party Group Against Anti-Semitism, told the MoS: "This is an insult to the memory of those who gave their lives to stop the Nazis.
"These idiots need to be re-educated and they should be sent to visit Auschwitz and see what happened there and witness the evil which so many people fought to stop.
"So many thousands of people died for this country and the last thing we want is their memory being tarnished by a couple of idiots in uniform.
"As Remembrance Sunday approaches, the MoD should send these guys around the country to clean war memorials."
He added: "Whether they call it a 'Red Hand salute' or whatever makes absolutely no difference - this is one of the most offensive gestures they could make in the modern world."
It was claimed that their gesture could be an apparent show of solidarity with Northern Irish Loyalists. Northern Ireland MP Sammy Wilson questioned whether the gesture could have been a loyalist salute
The Union Flag is inscribed with the words "Invicta Loyal", the name of a Kent-based Glasgow Rangers supporters club, and below it hangs the flag of Northern Ireland.
There is a suggestion the soldiers may be making a "Red Hand of Ulster" salute, once used by Rangers fans as a sign of allegiance with Northern Ireland Loyalists, the MoS said.
But Democratic Unionist MP Sammy Wilson said: "This is not a salute made by marching bands (in Northern Ireland). It is not clear what the context is but I do not think it can be explained away as some type of Red Hand of Ulster salute."
Jeffrey Donaldson MP of the Democratic Unionist Party added: "Anyone who would imitate a Nazi salute in front of the Union Flag or wearing the uniform dishonours these flags and the British Army.
"Any symbolism associated with fascism has no place in the Unionist tradition or any regiment of the British Army.
"We do not know to which regiment these soldiers belong but the Royal Irish Regiment, with which I am associated, has a proud record of fighting fascism."
The Ministry of Defence (MoD) confirmed the men were serving soldiers when the photo was taken, reportedly at an army base in Afghanistan.
The MoD said the image is at least three and a half years old and has been circulating on online forums for some time.
The MoD said the incident has been investigated and "administrative action" was taken at the time, in which the soldiers were dealt with by their chain of command. It is not known if they were dismissed.
An MoD spokesman said: "Individuals are free to join political parties but are expected to abide by our values and standards in all they do.
"Regular Service personnel are not to take any active part in the affairs of any political organisation, party or movement and they are not to participate in political marches or demonstrations.
"All those who are found to fall short of the Armed Forces' high standards or who are found to have committed an offence under the Armed Forces Act are dealt with administratively (up to and including dismissal) or through the disciplinary process."
Related