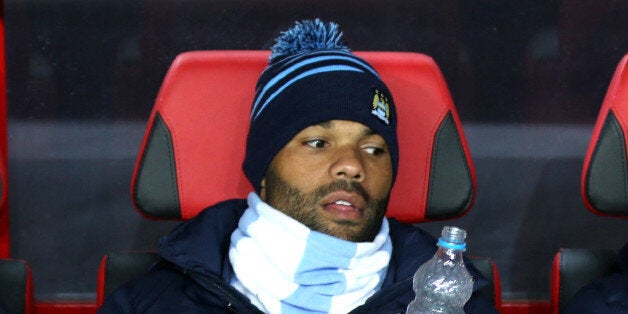 As Britain felt the first biting snap of winter Joleon Lescott was left out in the cold again by Manchester City. Not even a substitute for their defeat at Chelsea on Sunday, the 31-year-old could must wonder why he continues to be a spectator when his defensive colleagues continue to snatch defeat from the jaws of victory.
That Joe Hart committed another catastrophic howler for Fernando Torres' winner has spared Matija Nastasić the bulk of the flak. Hart may have been clad in green but his strip is not chameleonic and Nastasić probably should have seen him needlessly haring out of his 18-yard box before he fatefully nodded the ball over him.
Problems persist for Manuel Pellegrini in defence. Like Roberto Mancini, he has failed to sufficiently strengthen City's soft central defence and compensate for Vincent Kompany's lay-offs, with Martín Demichelis experiencing a disastrous debut beside Nastasić. The Argentinian, whose performances at centre-back were suspect for Bayern Munich and Málaga, amateurishly deserted André Schürrle and was drawn to the ball for Chelsea's opener.
Lescott has started four matches already this season, three in Kompany's absence, and was part of the bullied backline at Cardiff. In a desperate effort to ignore another Hart error for Romelu Lukaku's goal earlier this month, the blame was heaped onto Lescott, who was humiliated with ease by the Belgian.
Mancini often overlooked Lescott in his final season, who started 17 Premier League games as Nastasić, one of the outstanding defenders in 2012-13, dislodged him as Kompany's first-choice partner. When Kompany was injured at Stoke in January, City were five points adrift of League leaders United and when he returned two months later the chasm had widened to 15. Rightly or wrongly, Lescott is synonymous with City's defensive aberrations and he has emerged the scapegoat.
But that is unfair. Lescott formed a solid partnership in City's title-winning campaign, back when Hart was the best goalkeeper in the country, yet now Nastasić has ousted him from the starting line-up he is struggling just to be named in the 18-man squad.
Now 31, Lescott's contract expires in under a year and although he is free to speak with other clubs in January City should be spurring him to stay. Demichelis is an inferior defender and, pivotally, not experienced in the Premier League. One of his first touches on Sunday was to concede an unnecessary corner and an early season injury also contributed to a shoddy start. Playing Javi García at centre-back ahead of Lescott is insulting of Pellegrini.
It is glaring how rudderless City are without Kompany but Lescott's understanding with Hart and full-backs Pablo Zabaleta and Gaël Clichy from the 2011-12 triumph should be valued. Nastasić and Demichelis are not Premier League champions and it showed in their display at Stamford Bridge.
Roy Hodgson will also be hoping for a change in Lescott's fortunes. England have a paucity of options at centre-back and the proposed first-choice pairing of Gary Cahill and Phil Jagielka in Brazil is not a reassuring one. Lescott excelled at Euro 2012 whereas neither Cahill or Jagielka have played at a major tournament.
Lescott remains an interim choice, but has to come in from the cold.
Popular in the Community