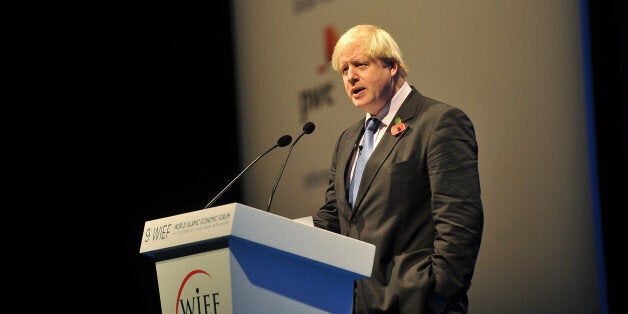 Speaking at the World Islamic Economic Forum (WIEF), the London Mayor said: "I personally defend the Guardian's right to publish interesting information such as [the fact] that Angela Merkel's phone was bugged by Barack Obama. I think that is an interesting fact."
"I think the public deserves to know. The world is better for government being kept under the beady-eyed scrutiny of the media and for salient and interesting facts about public espionage being brought into the public domain."
Johnson disagreed with suggestions by David Cameron that such revelations had made "this country less safe", insisting: "I don't believe that the fact that Angela Merkel's phone was bugged by the NSA does anything to jepoardise anybody's security, it's merely colossally embarrassing and it should come out."
Asked if his own phone had ever been bugged, Johnson quipped: "I'm sure my mobile has been bugged by everybody, and good luck to them!"
Johnson suggested that the ethical Sharia-compliant type of finance could help be a "strict protection" in the financial system against repeating the mistakes that led to the 2007 subprime mortgage crisis as it derives revenue from tangible assets rather than "allowing money to endlessly create money".
The London Mayor launched a fierce attack on Britain's planning system, telling the audience how he found it "absolutely shameful" to see how quickly infrastructure projects were built when he visited China earlier this month.
"When I was in China, I took a high speed train....and guess how long it took the Chinese to build that? Two years. That's about as long as it'd take us to do the environmental impact assessment. We need to speed up and get a grip on our infrastructure."
"I think it's completely wrong that some political parties, naming no names, are trying to play games with important projects like High Speed Rail 2."
Johnson returned to familiar territory as he called for ministers to "pull your finger out" and decide on how to expand the country's airport capacity.
"I genuinely think we're missing the boat, the plane on this...! We are left completely incapable, fosilised, motionless while all those other places are building airports."
The Mayor reiterated his support for a "24 hour, four-runway airport", saying: "It's like wading through treacle, but I'm completely confident that the iron logic of my position will lead to success."