Cristiano Ronaldo reminded those who have accused him of possessing a (perma-tanned) thin skin that he has a sense of humour when he mocked Sepp Blatter during Real Madrid's 7-3 defeat of Sevilla.
Ronaldo celebrated his penalty by offering a military salute - explicitly referring to Blatter's suggestion the Portuguese is a "commander" on the pitch - before going on to score his 22nd hat-trick for Madrid.
Madrid demanded an apology from Blatter, who mocked Ronaldo for having "more expenses for the hairdresser" and said he preferred Lionel Messi when giving a talk at Oxford Union.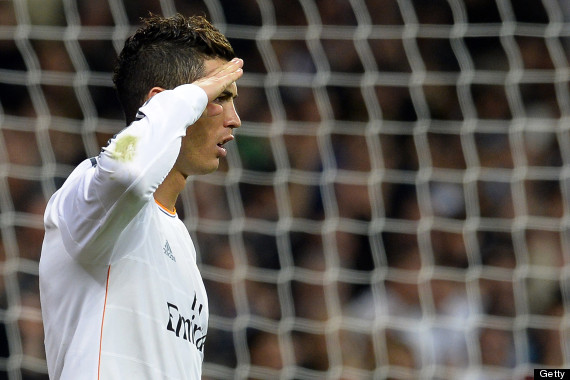 "Commander" Ronaldo salutes his own penalty
Blatter apologised via a letter published on Real's website and even tweeted Ronaldo, saying: "I never meant to offend you." Ronaldo had already taken a sarcastic swipe at Blatter, an honorary socio at Madrid.
I wish Mr.Blatter health and a long life, with the certainty that he'll continue to witness the successes of his favourite teams and players

— Cristiano Ronaldo (@Cristiano) October 29, 2013
Ronaldo did his talking on the pitch on Wednesday, and he completed his hat-trick with further goals in the 60th and 71st minute, both efforts coming in between a second-half brace from Benzema.
Gareth Bale had earlier scored his first Bernabéu goals.