WARNING: This reports contains some images readers may find distressing.
A Polish woman who was reportedly banned from keeping dogs after attempting to create a "Frankenstein" pet using live and dead animals, has now been arrested on suspicion of trying to repeat the procedure with cats.
The unnamed woman was found to have almost 100 dead bodies of animals, some of which appeared to have been "experimented" on in, in freezers at her house in Warsaw.
Neighbours had complained about the smell and the noise from the scores of living cats at the property, prompting a police raid. Some of the cats rescued from the woman's home
In total animal welfare officers found live 72 cats, all of whom were severely malnourished and revealed every room in the house was filled with animal waste.
A police spokesman said: "She was banned from keeping dogs, she had become obsessed with creating a new breed of dog and when that became no longer possible she switched to experimenting with cats.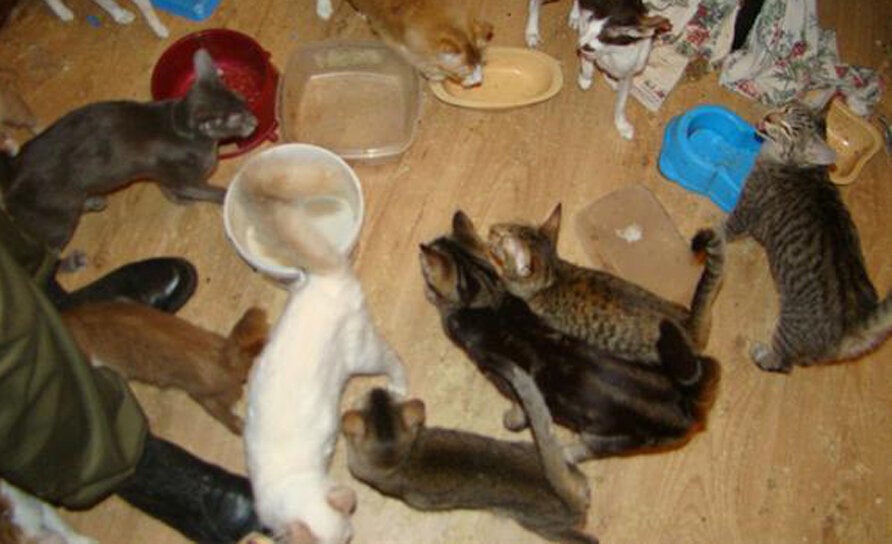 Frankecat
"There has obviously been some sort of sick experiments going on but until we get the autopsy is back on the bodies and have looked at the injuries to the live cats we won't know more about exactly what she was doing here."
The woman faces up to two years in jail for animal cruelty if police confirm that the animals were abused for illegal experimentation purposes.