Even as the ethical (and political) debate around the military use of drones persists, the underlying technology is getting ever more advanced.
The latest frontier to be passed? Getting the first drone helicopter into the air.
Yes, quadcopters and the like have been around for years - and are commercially available. But sending a full-scale chopper into the sky without a pilot, and controlling it accurately, has never been done.
Until now. The MQ-8C 'copter pictured recently completed two unmanned test flights (for 7 and 9 minutes respectively), flying to over 500 feet - and into the record books. The craft can carry up to 2,600 pounds, and fly for 12 hours.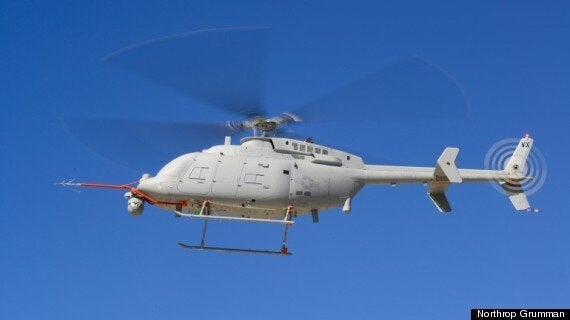 George Vardoulakis, Northrop Grumman's vice president for medium range tactical systems said in a press release:
"Operating the MQ-8B Fire Scout from Navy ships has proved extremely successful. During at-sea deployments, operators saw the need for a system that carried the same intelligence-gathering capabilities of the MQ-8B, but fly longer and carry additional payloads. Changing out the airframe, installing control systems and avionics, and then conducting a first flight of the system in a year is truly remarkable. I couldn't be more proud of the team."
Related