Rebekah Brooks brought in a new policy at News International about email deletion, which she "may have had a personal interest in", a court has heard.
The court was told that, while planning to move offices, News International came up with a new policy on deleting emails, aiming to clear the archive initially before a date in 2007, but this was then brought forward to 2010.
Prosecutor Andrew Edis QC told the Old Bailey: "We suggest that that shows Mrs Brooks may have had a personal interest in this email deletion policy - both to the date of the cut-off (point) and her own personal emails - also that it should be got on with.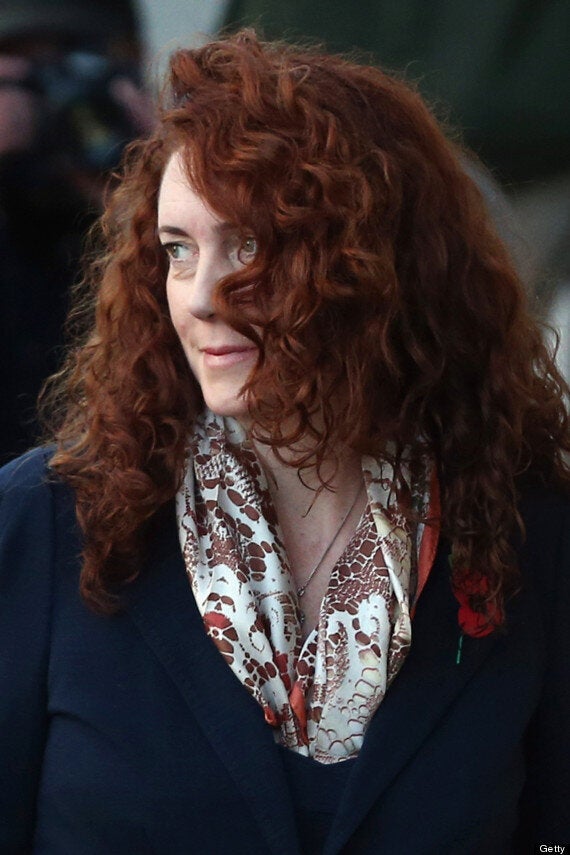 Former News International chief executive Rebekah Brooks arrives at the Old Bailey
"This is all going on in the context of the Guardian having published its article (on phone hacking) in the summer of 2009.
"We suggest that that is some evidence that Mrs Brooks was keen to get rid of material that related to her activities when she was editor, first of the News of the World, then of The Sun."
And the jury at the Old Bailey heard that Brooks told staff she was "appalled and shocked" by the accusations that the News of the World hacked the phone of murdered schoolgirl Milly Dowler.
Jurors were read a memo that Brooks sent to staff on 5 July 2011, following the Guardian's allegations that murdered schoolgirl Milly Dowler's phone was hacked.
She wrote: "We were all appalled and shocked when we heard about these allegations yesterday.
"It was sickening that these events are alleged to have happened, not just because I was editor of the News of the World at the time... But if the allegations are true, the devastating effects on Milly Dowler's family are unforgivable.
"I am determined that News International does everything it can to co-operate fully (with the police investigation)."
She added: "It is almost too horrific to believe that a professional journalist or even a freelance inquiry agent working on behalf of a member of News of the World staff could behave in this way.
"I can promise the strongest possible action will be taken."
Edis told the court that there is no evidence to back up previous claims that private investigator Glenn Mulcaire had deleted voicemails from the teenager's phone.
He said: "Milly Dowler's mother, when she called her daughter's phone, heard a different message and she thought that meant she might be still alive. It was alleged that was the result of the deletion of voicemails by the phone hacker from her phone. There is no evidence for that at all. No evidence that Mulcaire ever deleted any voicemails from Milly Dowler's phone."
Brooks, along with former Downing Street spin doctor and NOTW editor Andy Coulson; former NotW head of news Ian Edmondson and the tabloid's ex-managing editor Stuart Kuttner all deny conspiring with others to hack phones between October 3 2000 and August 9 2006.
Former NotW and Sun editor Brooks is also accused of two counts of conspiring with others to commit misconduct in public office - linked to alleged inappropriate payments to public officials.
Coulson is also facing two allegations that he conspired with former NotW royal editor Clive Goodman and other unknown people to commit misconduct in public office.
Brooks is also accused of conspiring with personal assistant Cheryl Carter to pervert the course of justice by taking the documents while the police were investigating allegations of phone hacking and payments to public officials.
Edis said that the material, said to be Brooks' notebooks from 1995 to 2007, has never been recovered. He told the nine women and three men: "Nothing like that has ever been recovered in the course of this inquiry."
Earlier the court was told that in 2011 the situation for News International became "more fevered" as the firm came under investigation by police after it handed over three emails linked to phone hacking and payment claims, and amid renewed media interest in the allegations.
Edis said: "This was a huge business for News International and for her [Brooks]. There were inquiries ongoing.
At all times she was of course aware that there was a police inquiry, Operation Weeting, which had in fact started when News International handed over these three emails.
"So there was always a course of justice in existence that could be perverted by hiding evidence.
"Hiding evidence was not acceptable at any time that year. The atmosphere, we would suggest, became even more fevered as time went on."
He added: "You can imagine the extremely anxious, if not panic-stricken approach to what was going on."
Jurors were told that a security guard was tasked with taking the bin bag to Chelsea Harbour, under the pretext of delivering pizza.
After he had dropped off the package, he sent a text message to a colleague, referencing the 1968 film Where Eagles Dare starring Clint Eastwood and Richard Burton, which said: "Broadsword calling Danny Boy.
"Pizza delivered and the chicken's in the pot." To which the colleague replied: "Ha, f****** amateurs. We should have done a DLB (dead letter box) or brush contact on the riverside."
Neither of the men can be named for legal reasons.
Edis told the jury that the security staff agreed to log the hours for the car park drop-off as "pizza delivery", because "you cannot log the hours as 'perverting the course of justice'."
Comments are closed for legal reasons
Popular in the Community