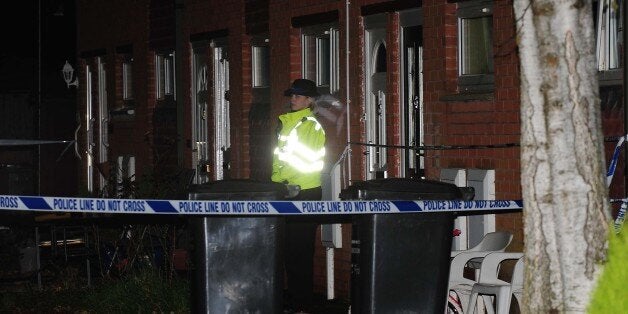 A young girl has died after being bitten by a dog, Leicestershire Police said. A spokesman said: "We were called to a flat in Rowena Court in Mountsorrel at about 12.15pm following a report of a young girl being attacked by a dog, believed to be the family pet.
"She was taken to the Queen's Medical Centre in Nottingham where she has since died." The spokesman could not confirm the age of the young girl.
Police said the dog died shortly after the attack in the quiet cul-de-sac in Mountsorrel, a town between Leicester and Loughborough. The spokesman added: "Officers are carrying out inquiries at the scene. The inquiries are at a very early stage."
It is not believed the dog was a breed listed under Section 1 of the Dangerous Dogs Act. Arthur Nash, a neighbour of the family on Rowena Court, said: "Everybody is in shock at the moment with her dying. When I saw an ambulance pull up I thought it was an old lady on the court who had had a heart attack, and then the neighbour came up and said she had been killed by the dog. We're in shock.
"The family has a similar sort of thing to the dogs that have been going off lately, similar to the dangerous dogs. I'm not saying it was dangerous but it looked a similar dog. I think the girl was probably about five-years-old."
Another neighbour, who asked not to be identified, added: "We've seen all the activity today and I've just had a phone call from one of the neighbours to say she's died. The police have been and then the ambulance came and we heard. I always say hello when I pass, and the little girl used to play outside - she used to say hello when she was playing. It is just such a shock, such a sad shock."
Gloria Longmire , a secretary at Mountsorrel Methodist Church, regularly walks her dogs up nearby Cross Lane. She said: "It's a shock, it's just a shock. It's really shook me, that is dreadful. It's tragic, it is really tragic. I would say we do have a strong community here and people will be absolutely horrified, and its dreadful that it's a family pet."
Melanie Wright from the East Midlands Ambulance Service said: "The emergency 999 call was received today at 12:05. The caller reported an injured child who had been attacked by a dog in Mountsorrel, Leicester. "We responded by dispatching clinicians in two fast response cars, a double crewed ambulance and the Derbyshire, Leicestershire and Rutland Air Ambulance. We also informed Leicestershire Police.
"The child was taken to the Queen's Medical Centre in Nottingham where, tragically, she has since died. This was a very distressing 999 call for all concerned and we are providing support to our colleagues who responded."
Related