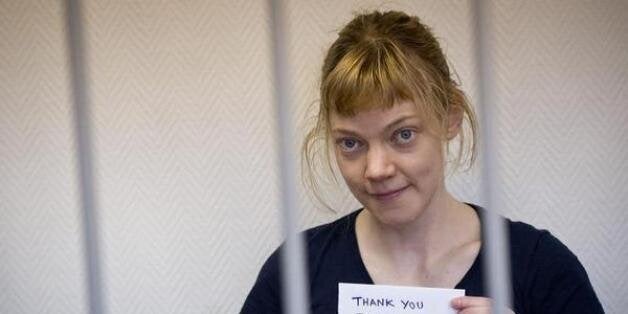 David Cameron has tackled Vladimir Putin over the Greenpeace activists who are in prison in Russia after protesting against Arctic drilling.
The Prime Minister called for "prompt, fair and proportionate action" by the Russian judicial system, Downing Street said.
The group, dubbed the Arctic 30, have been in custody since they were detained 50 days ago on their ship, the Arctic Sunrise.
"President Putin was understanding of the Prime Minister's concerns. They agreed to stay in touch on the issue," a No 10 spokesman said.
The protesters were initially charged with piracy, although it was later changed to hooliganism, which carries a lesser sentence.
Lawyers representing the Netherlands have argued that Russia violated UN regulations when it seized the Greenpeace ship.
The Hamburg-based International Tribunal for the Law of the Sea agreed to hear arguments on the case today even though Russia refused to attend.
A Greenpeace film includes footage of the arrests, court appearances in Russia, and messages via email or letter from those being held.
Kieron Bryan, one of the six Britons arrested, wrote last month: "The hardest moment was the first night in prison - none of us knew where we were or what conditions the detention held, or whether we would be separated, left to navigate the unknown alone. Being shown to my cell and introduced to a couple of strangers was frightening, to say the least."
Another Briton, Alexandra Harris, wrote : "We're allowed to leave our cell and walk for one hour each day. We're locked in what can be described as an outdoor chicken pen. It's horrible. But yesterday I saw that someone had scratched Save the Arctic into the wall. It made me laugh."
Greenpeace is stepping up its campaign to free the 30 to coincide with tomorrow's 50th day since they were arrested.
Greenpeace political director Ruth Davis welcomed Mr Cameron's intervention.
"The indications are that this was a positive call, and we hope this will translate into the urgent action needed that will see all 30 of those detained released without delay, " she said.