If Idris Elba's name is already writ large, it's about to become colossal, with the imminent release of 'Long Walk to Freedom' and his lead role of Nelson Mandela.
However, he's already a favourite of epic directors, from Ridley Scott in 'Prometheus' to Guillermo Del Toro, who steered him through the "big film" of sci-fi blockbuster 'Pacific Rim'. Ahead of its home release on Monday, Idris Elba talks to HuffPostUK about stepping it up for the big screen, steeling himself for the return of 'Luther' and how, so to speak, it's all come down to 'The Wire'...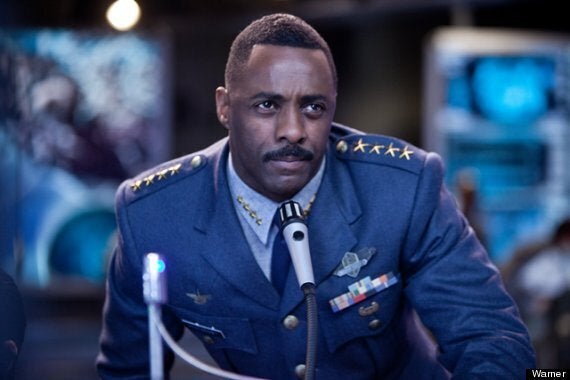 Idris Elba - an ever-increasing screen presence, here in 'Pacific Rim'
Did you pay close attention to how Guillermo Del Toro worked on 'Pacific Rim'?
Sometimes. But you get the same satisfaction by getting to know the crew. I realise that I find myself really attracted to crews, and I get to know them, because they are the ones who are doing the work. The directors are only telling them what to do, so for me getting to understand who my crew is helps me get one step closer.
From Guillermo I learnt how to make a big film. In television you come in, there are two cameras maybe, you set up a nice wide shot. In 'Luther' we spend time making sure a shot is a Luther shot. But with Guillermo, when he stepped on the set and I learnt what it is to do big 'pushes' as you say your line, and 'sweeps' [with the camera]. It is quite impressive.
Can you recall some special moments from making 'Pacific Rim'?
I remember doing this massive rain scene in which I am watching this Jaeger fall out of the sky and it was quite fun. It was a massive stage built at the top of this roof. It felt so real.
Which of Guillermo's films do you like the most?
'Pan's Labyrinth' is my favourite, because it is just beautifully shot and delicately made. It is that way he blends a war film with a fantasy. Amazing.
How did you feel returning to the small screen with your TV series, 'Luther'?
We haven't been on TV for almost a year and a bit. I was very nervous at the time thinking, 'Oh I am not sure that the audience is going to go with it,' but it did [go with it]. The first episode of the new series got between 5-7 million viewers. It was on a Tuesday. There was nothing else on, mind you, but it was great. We got a great response and it trended on Twitter for at least an hour.
Why do you think that 'Luther' is so popular?
It's bigger than life. It's like a movie. The character is big. He is not your typical English gent but yet he is. He goes after horrible, horrible people and we are fascinated as audiences watching him and observing him. And then you have got a cop that's equally as horrible when he goes after you. That is what its appeals is. I became a producer later on and my role is really just keeping the integrity of the character and also the show. 'Lutherisms.' I protect the 'Lutherisms'.
They range from everything like the type of actors that come into the show, the type of camera work. 'That doesn't feel very Luther but this does.' I say that quite a bit. I love to act but I also love the logistics of pulling it together, and watching great filmmakers and actors making it happen. I'd like to direct more than produce, but being a producer is quite a satisfying thing.
How did you get started in this business?
It was literally from secondary school and being given an option to try and act. When I left school I got into small, local theatre groups and at the same time I was deejaying on a radio station, so the two worlds were pretty weird and odd. But the transition was pretty smooth. I had confidence when I was on the radio and I used that confidence to get into my first job as an actor.
Did you keep your music going even as your career took off an as actor?
I did a lot of it simultaneously. My music is really experimental. I put stuff out there and I have sold stuff and then I have worked on more specific albums with people like Jay-Z and Angie Stone, where the focus is to make a great track. I feel like music is always going to be a part of me and I think one day I am going to put out an album or two where audiences will be surprised. They'll be like, 'It is not bad. It is a bit weird; I didn't expect him to be singing and rapping!' And the reason why I want to do it is I am deejaying a lot now and my deejaying takes me into studios quite a bit where I am listening to other artists. It is a bit like being a director. A deejay wants to be behind the boards and to make something because he knows how those beats add up.
You directed a video for Mumford & Sons. Was that akin to a test run, you trying your hand as a director?
It wasn't offered that way. I remember when the guys called in and said, 'Hey, we'd love Idris for a video that we are doing.' I said, 'Wow.' Then they sent me an idea and I said, 'Can I tell you guys, I don't really want to be in the video. I'd like to direct it. It would give me an opportunity as I haven't done much before.' And they said yes and there it was. It was a art house piece of film, which myself and a co-director worked on. We fleshed out my idea of what it should look like. That is what came out and it was great. I loved the idea of directing. That interest has always been there. I remember when I was at drama school you had to put scenes together. My teacher would say, 'Right, here's your scenario, make a play about it.' I got an A+ for drama.
Do you consider yourself an actor, an entertainer?
I consider myself an artist at this point. I am an artist. I have a few outlets for my art. I have my directing, my acting, film and my music and I want them to be varied and weird and different. I want people to go, 'I don't know what he's going to do next.' I love the idea of that. But I love to make music. I love it.
Was that creativity always nurtured when you were a kid?
Yes, through my parents. I was an only-child and while I wasn't spoilt I remember that they used to make me get up and sing songs to them and do break-dancing, all the stuff that was confidence building and turned me into what I am today.
How did you enjoy playing Nelson Mandela in 'Long Walk to Freedom'?
I want people to see the film. I want people to understand it and then ask me questions because without seeing it people have already got ideas about what it should feel and look like. I am not Morgan Freeman, I am not Terrence Howard, and I don't look like Mandela. I don't have that sort of complexion and we are not doing a look-alike story. This is a real story and this guy, Idris Elba, happens to be playing him.
When you first started on 'The Wire' did you know that it would be something special?
I knew the writing was special and I knew that with them trying to tackle a problem like that on a major HBO show, then it had to have some legs. It turns out that it really has had some legs! It changed my life, of course. I blame it all on 'The Wire'!
'Pacific Rim' is available to own on 3D™, Blu-ray™ and DVD on 11 November as well as Digital Download from 4 November. You can click here to preorder your copy.