This is the first picture of the dog which mauled four-year-old Lexi Branson to death as she slept.
The animal was a family pet and had been brought from a rescue home, according to neighbours.
Police said the animal was stabbed to death by the child's mother Jodi Hudson in an attempt to save Lexi during the incident on Tuesday. This is the dog identified as having mauled Lexi Branson to death
In a statement the force added that the pet was a bulldog, which is not listed under the Dangerous Dogs Act.
Leicestershire Police said officers were called to a flat in Rowena Court in the town of Mountsorrell, between Loughborough and Leicester, at about 12.15pm following a report of a young girl being attacked by a dog.
A spokesman said the youngster was taken to the Queen's Medical Centre in Nottingham, where she died.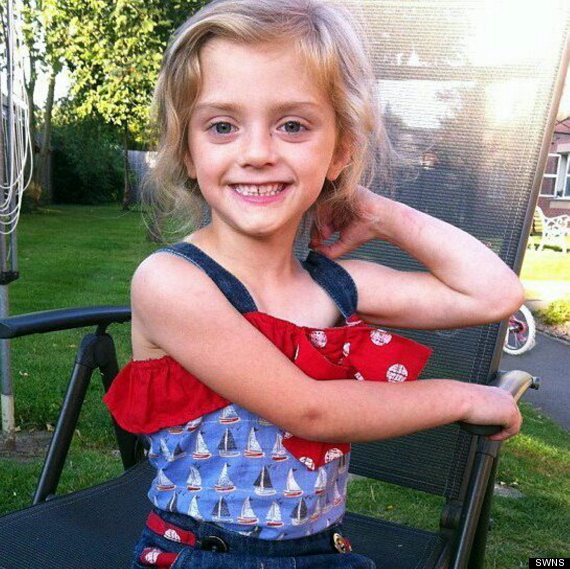 Lexi Branson died in a dog attack in Mountsorrel
Family friend Paul Ryan told the Daily Mirror that Hudson was "in hysterics" after the attack and kept saying that she had been told the dog was safe around children.
Ryan said: "Apparently it suddenly turned on Lexi for no reason. She was in bed sleeping with her mum and it came in and just went mental.
"It grabbed Lexi and wouldn't let go.
"Jodi was screaming and trying to pull its head away but it wouldn't give in. In the end she had to use a knife to release its jaw. It must have been absolutely terrifying."
What Makes a Dog Maul a Child? (BLOG)
Glennis Goddard, 68, said: "It is such a shocking thing that has happened. I only saw little Lexi with her mum Jodi and the dog the other day, I was stroking the dog, and it seemed fine.
"It was licking my hand."
Lexi's death comes after a spate of similar dog attacks in recent years.
In March, Jade Anderson, 14, was mauled to death by four dogs while visiting a friend near Wigan. The girl was discovered by armed police at a friend's house in Chaucer Grove, Atherton, amid a pack of aggressive dogs.
The animals, who were not on the list of breeds banned by the Dangerous Dogs Act, were put down after the incident. The owner of the animals, mother-of-one Beverley Concannonwas given a suspended 16-week sentence for animal cruelty at Wigan magistrates court last month.
And in November last year, 71-year-old great grandmother Gloria Knowles died after being attacked by a pack of dogs she had gone to feed. The great grandmother was found dead with multiple injuries at a house with five dogs in Morden, south London.
Police said the animals - two Bordeaux bulldogs, two American bulldogs and a mongrel - were not banned breeds. Knowles is believed to have been feeding the pet dogs belonging to her daughter when she was mauled.