Two students who donned twin towers costumes, complete with burning planes and victims, for a fancy dress party have been slammed for their "appalling" outfits.
Annie Collinge and Amber Langford, both 19 and students at the University of Chester, are now being subjected to an "urgent investigation" by the university and may face disciplinary action. The pair dressed up for a competition at Chester nightclub Rosies - and even WON first prize, scooping a £150 reward, The Sun revealed.
To add insult to injury, Langford's father was flying a United Express jet in the US at the time of the 9/11 attack, the tabloid reported. Collinge, meanwhile, is vice president of the people and planet society at her university, which aims to "make a positive difference" to the world.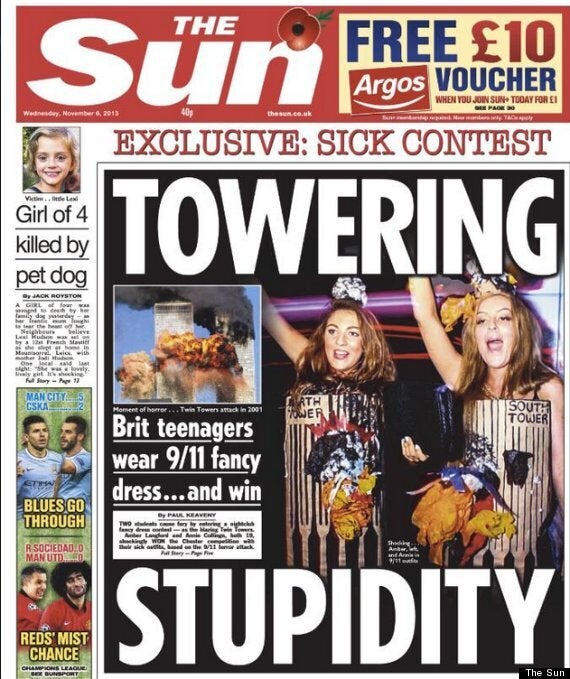 Amber Langford and Annie Collinge made the front page of The Sun
The pair, who were labelled South Tower and North Tower, have since apologised, saying they intended to depict a "serious, modern-day horror".
The University of Chester and Chester Students' Union said in a statement: "We utterly condemn the appalling photos. Both organisations have begun an urgent investigation with a view to taking the necessary action."
A spokeswoman for the Stonegate Pub Company, which runs Rosies, said: "Following the club night Halloween promotion that took place at Rosies, Chester, we are extremely concerned that an award of shopping vouchers was made to two young women who were dressed in a distasteful and offensive manner.
"There was a serious error of judgment made on the evening by a contracted DJ to award such a prize and we apologise to anybody who may have been upset or offended by this. A full investigation by the company is taking place."