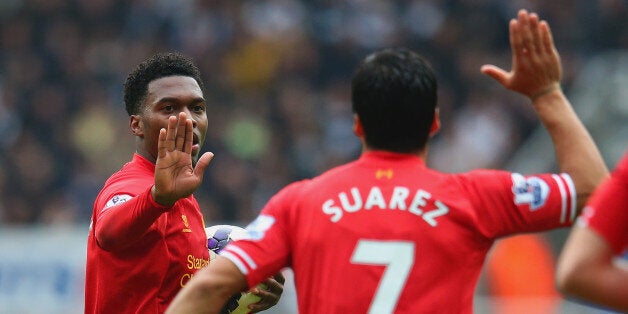 In the Premier League's glory days, before managers coached the joy out of players and words like trequartista and enganche were as alien as talk of Arsenal winning the Champions League, the strike partnership reigned supreme. Cantona and Hughes, Shearer and Sutton, Shearer and Ferdinand, Anelka and Bergkamp, Yorke and Cole, Bergkamp and Henry were pivotal figures behind English football's post-Hillsborough recovery on the pitch, and blazed the trail for more foreign footballers to flock to the glamour of the Premier League.
Before them, there were pairings from Toshack and Keegan to Withe and Shaw, Dalglish and Rush to Harford and Stein. Four-four-two was so in vogue it spawned the name of a magazine and it remains the go-to formation when supporters select an all-time XI. It is not a convenient system to shoehorn cult figures into but it remains revered, however unsophisticated it purportedly is nowadays.
The Premier League's continued regression is highlighted by the welcome return of two up front. This season has been better as a result of the League getting worse, exemplified by Liverpool's underachievers flirting with top spot. The top teams in Italy, Spain and Germany seldom field two strikers, sometimes none at all.
Liverpool's resurgence is largely owed to Luis Suárez and Daniel Sturridge's goals. They have complemented each other brilliantly since the Uruguayan's return from suspension, which has not affected Sturridge's outstanding form when bereft of Suárez.
Alvaro Negredo has emerged as the prime foil for Sergio Agüero, whose position appears to be irrelevant when it comes to goalscoring. And despite when broadcaster's suggestion of bad body language between Robin van Persie and Wayne Rooney, Manchester United's duo have proved that to be utter nonsense.
None of these sides play a straightforward 4-4-2. Agüero, Suárez and Rooney all occupy the No.10 roles to support the centre forward and they are tasked with linking the midfield with the attack, usually a role reserved for attacking forwards on the continent.
Out of the aforementioned sextuplet, it is arguable only two of them are out-and-out strikers. Negredo might drop off but his No.9 shirt is a more accurate reflection of his role at City. Agüero is so brilliant a player he can roam whether he is paired with an ally, or not. The East Lancs quartet, however, are all suited to deeper, albeit central, roles where they can effect the game more.
Rooney and Van Persie are curious contractions whereby they have enjoyed their best seasons while played out of position. It was apparent when the Dutchman joined Arsenal he was so technically adroit he would arguably be wasted if deployed as the team's focal point. The same applies to Rooney, who joined United to play off of Ruud van Nistelrooy yet his finest campaign was in 2009-10 because of the 34 goals he plundered. Only under David Moyes is he getting a fair crack of the whip in the No.10 role Evertonians knew he was born to play in.
Suárez is so crafty and gifted a dribbler that plotting him against two defenders seems a shame, even though he superbly wreaked havoc in 2012-13. Sturridge is Brendan Rodgers' outstanding success story at Anfield, a truly gifted player who was the victim of tinkering at Chelsea, although his talent in the Manchester City academy suggested he was not merely a goalscorer. It is testament to these players they have combined so devastatingly.
And their success is something for André Villas-Boas to mull over. Roberto Soldado, a £25 million poacher, rarely goes a game without being isolated by his Tottenham teammates and it is appropriate three of his four League goals have come from the penalty spot. Villas-Boas bought Erik Lamela, Christian Eriksen, Paulinho to offset Gareth Bale's departure without considering how blunt Spurs could be if they did not acquire a suitable foil for Soldado.
Chelsea have similar issues up front, admittedly on a personnel level. Fernando Torres' resurgence has been scuppered by injury and neither Samuel Eto'o nor Demba Ba are adequate figureheads for title challengers. José Mourinho's tinkering with the forward three has also scuppered any chances of consistency, although he has traditionally played with one striker.
The caveat is Olivier Giroud's excellent form with Arsenal. Giroud's greatest asset is his sheer selflessness, which encourages Arsenal's array of attackers to surge forward in support of their lone striker. The Frenchman isn't usually as good a goalscorer as Soldado (despite an excellent eight goals in 17 with the Gunners) but is the beneficiary of a supportive system, which explains Arsenal's potency in the League.
For United, Liverpool and City, the acid test of their two-up-top preference comes in Europe. Van Persie's arrival as a substitute on Tuesday, at the expense of Rooney, saw him partnered with Shinji Kagawa and United suddenly looked slicker and more refined in attack against foreign opponents. That could alter Moyes' thinking should United qualify for the knockout rounds, while City, in the last 16 of the Champions League for the first time in their history, will be guided by the seasoned Manuel Pellegrini. While Liverpool aren't even competing in Europe, they are competing to play in it again.
Related