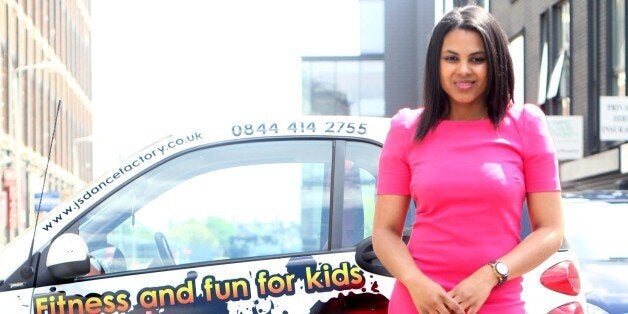 25-year old dance instructor Jessica Elliott started two businesses, driven by an ambition to break the stuffy stereotype of dance classes, "J's Dance Factory" and "Dancing After School".
With £200 and an idea, Elliott strove to make dance more fun. She has gone from teaching 12 kids in a church hall back in 2007 to running 7 franchises for her "Dance Factory", which teaches kids aged 4-18 in London. She also provides dance classes in over 24 schools in London through her sister company, "Dancing After School".
Now shortlisted for the Women of the Future awards, HuffPostUK caught up with Elliott to find out how she rose so far.
I started in 2007 in a church hall with about 12 kids for my first lesson while I was at university. When I graduated later in 2009, I won a business plan competition and that is what mae me start 'Dancing After School', which is a business that provides classes for kids in schools across London.
We had over 80 kids by that Christmas and it has subsequently grown, and now the franchise model has come into place to be able to help people who want to set up schools and grow our brand as well. Now I have built up 6 franchises, we contract about 40 dance instructors and I'm just selling my seventh franchise.
What have you learned along the way?
You have to be very resilient. You have to not give up. I remember ringing 86 schools before one school gave me a meeting, and then I got my first contract finally. You have to be persistent, but ultimately have fun!
What's your ambition for the business?
First of all, to take it over the country, and then international and to the future.
Why did you get started as an entrepreneur?
I just felt there was not very much dance for kids. There was nothing young and with music that the kids would listen to today. what's important to learn
Dance is now popular again. You used to think about dancing as just something you'd take your 3-year old to in a pink tutu, but now it doesn't need to be that! It's for everyone and we've got loads of boys in there of all shapes, sizes and creeds.
I walked into the studio the other day and I couldn't hear anyone speaking English, and I loved it! I love that everyone can all learn from each other and they all come together and dance.
It's about opening minds and seeing that there's nothing wrong with doing a ballet routine to a piece of jazz music.
Has it been hard for you to strike out as a young entrepreneur?
I've got friends from university who are now in nice stable jobs working as physiotherapists, doctors and the like. Then there's me, a total maverick!
My mum had her own business and my dad was very entrepreneurial too, so has tried a lot of things over the years.
How are you managing to balance your work?
I'd say it's all thanks to my team. Without a good team, you can't do all these things.
Aside from the dancing, I've recently opened an online dog boutique. I've got a little chiuhaha and I really wanted cute little outfits for it - so I put this website together which has been quite popular so far with a couple of the girls from The Only Way Is Essex. They've said to me: 'Yeah it's great, send us a link and we'll tweet it'!