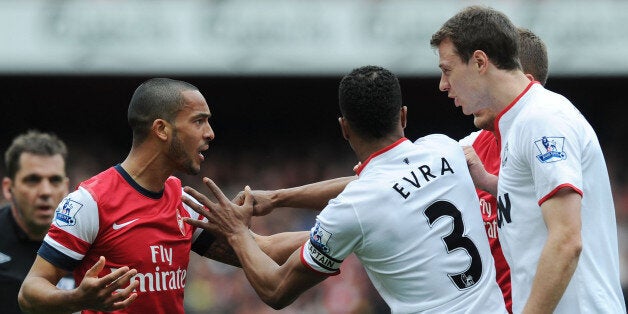 "It could have been 20," Sir Alex Ferguson recounts in his book. "It actually reached the point where I felt - please, no more goals. It was a humiliation for Arsène."
Ferguson is, in case your memory is selective, talking about The 8-2 in August 2011 - the bleakest day in Arsène Wenger's reign, when Francis Coquelin was "completely out of his depth" and Andrei Arshavin "contributed nothing". It signalled just how irrelevant Arsenal had become to Manchester United. Even in the last six years, on the one occasion when there was something riding on the match Arsène Wenger was taking a knife to a gunfight.
Ryan Giggs, Paul Scholes, Dimitar Berbatov and Carlos Tévez were on the bench for United's blistering evisceration of Arsenal in the 2009 Champions League semi-final. Gooners had been handed flags for the occasion, having escaped with a 1-0 defeat at Old Trafford the previous week, but waved them for less than eight minutes. Cristiano Ronaldo's free-kick swiftly followed Ji-Sung Park's early opener and United fans began booking flights to Rome. The joke at the time went: 57,000 Arsenal flags for sale. Good as new. Only waved for eight minutes.
The common theme running through those three seasons was Arsenal's sheer lack of mettle, as they collapsed spectacularly in each campaign. The seismic-shifting moments stand out like sore thumbs: Eduardo da Silva's broken leg, Wigan's remarkable comeback from 0-2 down to win 3-2 and the 2011 League Cup final all triggered different downfalls in different seasons. Arsenal finished four points off the top in 2008 and were viewed as contenders in the spring of 2010 and 2011, but it was never for real.
United's 2-1 win at Arsenal two seasons ago flattered the hosts. Their dominance at the Emirates Stadium was such that the fixture was in danger of not being televised again, unless in the interests of gallows humour. Arsenal were in freefall and fading into the same obscurity from which Newcastle - briefly United's foes in the mid-90s - have never recovered.
Something has changed in north London, though, and it isn't Arsenal's squad. The tendency for orchestral football and overplaying it is still there, and so is a newfound resilience. So starved of success are Wenger's players they have belatedly rallied and displayed different characteristics they perhaps doubted they ever possessed.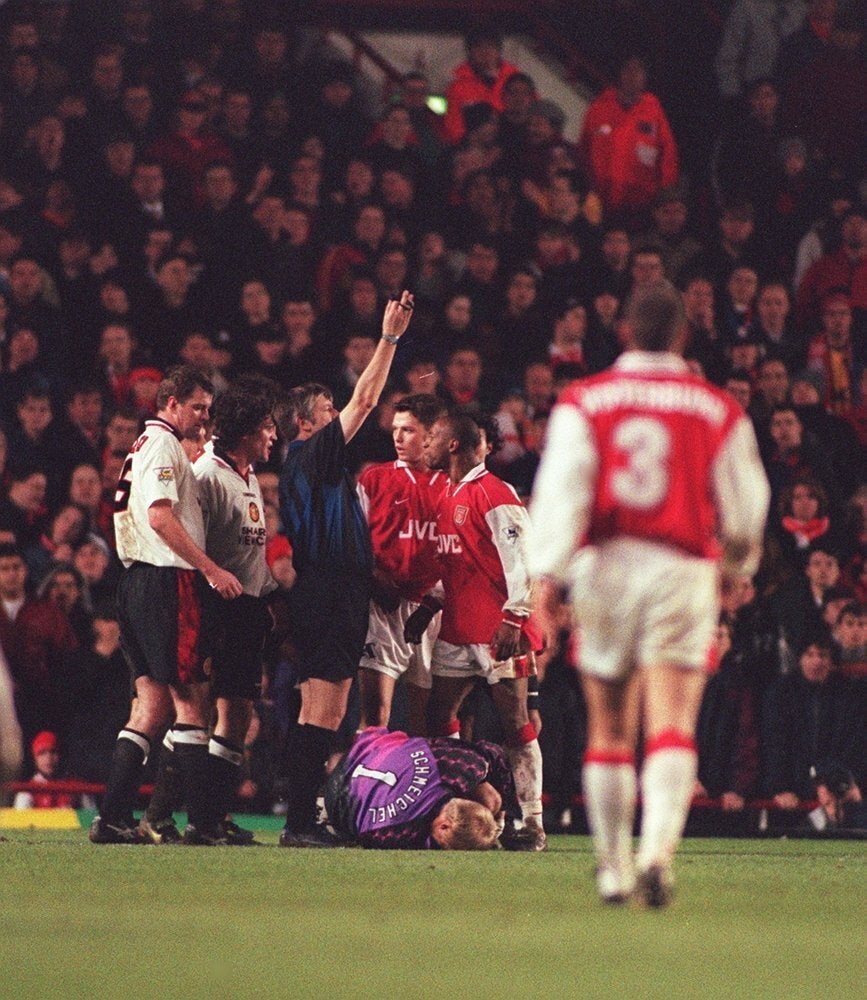 United vs Arsenal, 1997-2005
Aaron Ramsey has scored as many goals this season as he registered in his first five with Arsenal, Per Mertesacker and Laurent Koscielny are at the centre of a miserly defence while Olivier Giroud has a newfound belief up front and in Mesut Özil, Arsenal have an undisputed world-class player wielding the baton and conducting the orchestra. Now they are for real.
They travel to Manchester this weekend five points clear at the Premier League summit, with United eight adrift from them. For the first time in what seems like aeons, this is a meaningful fixture and United cannot afford to lose their fourth League match of the campaign.
United's squad has hardly altered, either, and now that David Moyes is showing signs of settling into his daunting task of succeeding Ferguson, they have some momentum. The managerial change would explain the markedly different starts United and Arsenal have experienced this season, although the state of their squads actually makes the chasm between the clubs unsurprising.
There are probably four players - maximum - in Arsenal's first-team who United fans might covet. Özil's a certainty, Kieran Gibbs has been the best left-back in the League this season, Ramsey and Santi Cazorla, too, probably, would feature in a mash-up of the two teams. Despite this supposed superiority, United just do not look as driven as Arsenal. The trophy drought and Wenger's contract (it expires next summer) have fuelled Arsenal's ambitions, only Moyes is unlikely to derive the same effort as Ferguson did.
Six United players are out of contract at the end of the term and five of them started in the three-out-of-four Champions League finals under Ferguson between 2008 and 2011. Hunger was essential to success at Old Trafford under Ferguson, who would look ahead to the next campaign before he had even hoisted the trophy, yet there are signs of the dreaded transition Arsenal are familiar with.
Moyes will relish the chance to take Arsenal down a peg on Sunday, though. A win against Liverpool is arguably distorting but winning in Dortmund, albeit in a group stage match, isn't. An occasionally ugly victory, it was a genuinely encouraging sign for Arsenal's annual chokers and suddenly, their fans are crowing on the forums and social networking sites, unable to resist aiming barbs at United. It's a luxury they've not enjoyed since Akon was top of the charts.
Neutrals will be pleased at this possibly brief return of the United-Arsenal antagonism, too. However toxic it became between 1998 and 2004 (the Metropolitan Police once intervened), their encounters were absorbing and they were the two best teams in the country. Now, Arsenal have the chance to humiliate United.
Popular in the Community