Footage of a man shoving his pet cat into a microwave in Lebanon has prompted renewed calls for the government to toughen its animal welfare laws and criminalise such behaviour.
The film – which was incredibly posted to Facebook by one of the giggling perpetrators himself - sees the cat being roughly bundled into the oven before it is switched on.
The animal is then wrenched from the microwave, before being shoved back inside, with the door being slammed repeatedly on its head.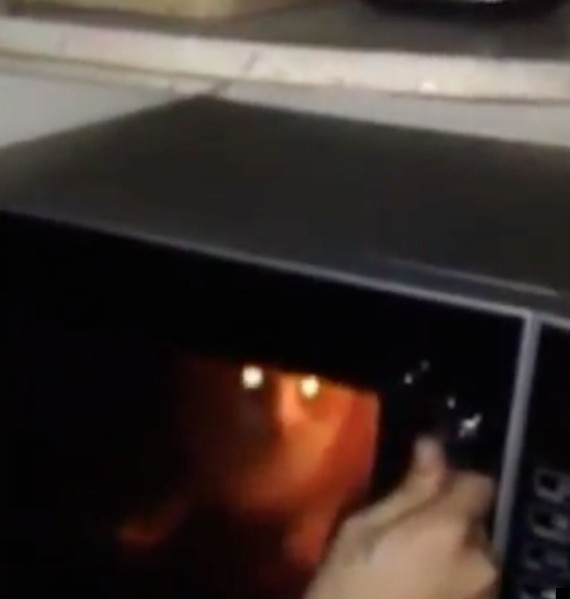 The cat appears to have survived the incident
The footage was removed from Facebook for violating user policies but not before the pair were publicly identified, Global Voices Online revealed.
A Facebook page calling for culprits Hasan Hammoud and Mohammad Jallabad to face justice has also been set up, with users offering to donate funds towards a prosecution.
Both of the men have submitted videotaped apologies - holding what they claim to be the same, apparently unharmed cat - but the matter has highlighted the country's lax attitude towards animal welfare.
Current legislation calls for maximum penalties of less than £10 and according to research carried out by the charity Animals Lebanon, the law has not been used once in the past 20 years.

The charity is leading a campaign which calls on the government to enact national animal welfare and protection legislation.
After nearly a year of work with the country's review committee of the Ministry of Agriculture, it has prepared a draft law it hopes to see enacted by the end of the year. You can support their efforts by signing an online petition here.
I dare #lebanon police to arrest Mohammad Jallad & Hassan Hammoud. Cat in microwave. @LOrientLeJour@LBCI_News_ENhttp://t.co/oBLN8JNAAc

— Philip Farra (@philfarra) November 8, 2013
Michelle Matta, of Animals Lebanon told the Lebanon Daily Star that if the law is approved, the perpetrators could face a prison sentence ranging from three months to two years, as well as a hefty fine.
But at present, she points out, the charity would be limited to talking: "To the guardian and try to convince him that what he did is bad and to give us the animal, but he has the right to bring the police and kick us out. "