A leading university agreed to provide a platform for an openly homophobic Islamic preacher, despite YouTube videos showing the cleric denouncing gay people as "filthy".
Liverpool University was happy to host Mufti Ismail Menk as part of his tour around UK institutions, which has now been cancelled after every other university refused to take part, The Huffington Post UK can reveal.
A poster circulated by the Tayyibun Institute listed Menk's planned appearance at six universities during November: Glasgow, Leeds, Liverpool, Leicester, Cardiff and Oxford. The preacher can be viewed in a YouTube video denouncing homosexuality, saying gay people are "worse than animals".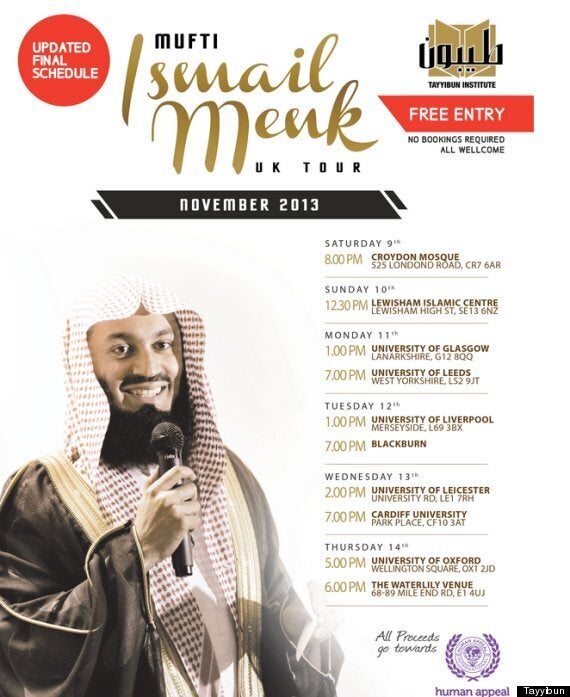 The poster advertising the UK tour
The Huffington Post UK contacted all of the universities advertised on the poster, with all bar Liverpool saying the event was either cancelled or Menk had never officially been invited.
However Liverpool University freely admitted it would play host to the cleric, after the Islamic Society invited him, telling HuffPost UK it is "not the role of the university to censor people's views".


A spokesperson for the institution said: "We can confirm that there has been a request for Mufti Ismail Menk to speak at the Guild of Students. He will talk about what young people can gain from a University experience."
"We are committed to providing an inclusive environment where the views and beliefs of all our staff and students are respected.
"Universities provide platforms for discussion and debate – whether or not we agree with the views of those involved. It is not the role of the University to censor people's views, but rather to provide a neutral, open environment for them to be debated and challenged.
"The Guild of Students and the University have clear policies on diversity and equality, which inform our decisions on events such as this."
A video posted on YouTube shows Menk asking: "How can you engage in acts of immorality with the same sex?
"Today we have people claiming to be Muslims. I've heard one of them on YouTube recently who says, 'No I've studied the Koran… totally and what is prohibited is to rape the men, but if it's done with consent there is nothing wrong.
"How foolish they are. The Qu'ran clearly says it is wrong what you are doing.. Allah speaks about how filthy this is.
"With all due respect to the animals [homosexuals] are worse than animals."
The NUS had released a statement prior to the cancellation which read: "These reported comments are very concerning. As well as BIS and Universities UK we are liaising with the students' unions at the universities named on this speaking tour agenda to ascertain whether these events are being organised by official societies affiliated to them."
"NUS has very clear guidance for students' unions and their clubs and societies on external speakers. We encourage our members to follow this to assess the risk of all speakers to determine the action they should take to protect students and keep them safe."
After the majority of the universities refused to be affiliated with the tour, Tayyibun and Menk issued a joint statement announcing the cancellation of the event "until further notice".
A spokesperson for Stonewall said: "Universities should always remain mindful that they have a duty to protect all of their students and to ensure balance in university discourse."
Related