A pair of detention sheets revealing the school day misdemeanours of a 15-year-old John Lennon, renowned as the "class clown", are to go on sale after being saved from a bonfire.
The documents uncover his antics at Quarry Bank High School for Boys in Liverpool. Reasons for punishment given by his teachers include "sabotage", "fighting in class", "nuisance", "shoving" and "just no interest whatsoever".


On two occasions the Beatle even managed to receive three detentions in one day.
The sheets cover the periods when he was in Class 3B between May 19 and June 23 1955, and in Class 4C from November 25 1955 to February 13, 1956.
His surname is written by a teacher on the top left corner of each page.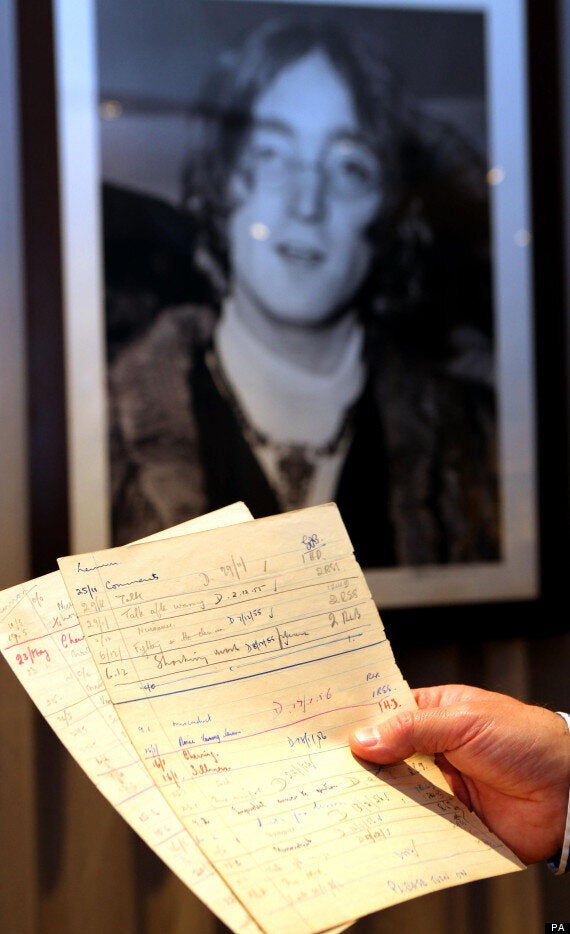 The cheeky Beatle's detention slips
They were from a class detention book that was rescued from a bonfire at the school in the late 1970s, say auctioneers TracksAuction.com.
During a summer break a member of staff at the Allerton grammar school was asked to clear out a storage room to make space for a newly appointed teacher. His instruction was to burn all of the books which were stored in the room.
While burning a number of old and redundant books he spotted the name 'Lennon' at the top of some of the pages in the book and quickly realised who they related to.
He tore the sheet from the book and retained it as a keepsake, said TracksAuction.com.
A number of the pages he had taken out of the book and kept were unfortunately destroyed at a later date in an accident involving chemicals. Other sheets he gave away but these pages are some of the few that have survived.
The sheets have been authenticated by Lennon's close school friend, Pete Shotton, who wrote a book John Lennon: In My Life.
Peter Beech, Lennon's general science teacher at the time, said: "The sheet is typical of John Lennon, he was an extremely cheeky boy. He did, however, know his limits. In the classroom, if you settled John down, you generally settled the class down.
"His chemistry teacher Eric Oldman said that John could actually go far."
The detention sheets are estimated to fetch between £2,000 and £3,000.
Online bidding at TracksAuction.com starts on November 22 and the auction concludes with a live online sale beginning at 5pm (GMT) on December 1.
Other items in the Beatles memorabilia sale are a signed White Album, expected to fetch between £60,000 and £80,000, handwritten lyrics to an unpublished 60s song by Sir Paul McCartney and an unpublished Lennon sketch.