This is the first released image of 'Pelé' as depicted on screen in the story of the life of the footballing icon.
The picture shows the youngest actor, Leonardo Lima Carvalho, recruited to play the "King of Football" from age 10 to 13. who portrays "King of Football", Pelé from ages 10-13.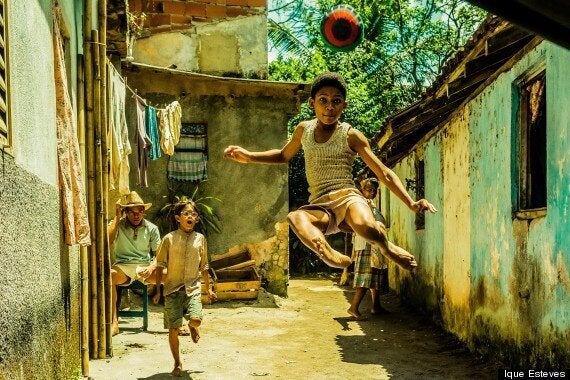 'Football' of a sort in the streets of Rio De Janeiro for a young Pelé
Leonardo is seen playing with a "football" made of socks in the alleys of Bauru where he grew up, and he answers to 'Dico', which is how Pelé was known during his formative years.
From a life full of disadvantages and an impoverished youth in Brazil, Pelé used an unorthodox yet effective style of play and his unbeatable spirit to overcome all odds, find greatness and inspire his country.
Vincent D'Onofrio will play the Brazilian team's World Cup coach Feola, and Diego Boneta will play Jose, Pelé's arch rival and responsible for giving him the nickname 'Pelé' when they were children. Seu Jorge has also joined the cast to play Pelé's father, Dondinho, alongside newcomers Kevin de Paula who will play Pelé from age 13-17 and Leonardo Lima Carvalho who will play him at age 10. Colm Meaney will play the role of Coach Raynor, the Swedish World Cup coach.
The film's producer Brian Grazer reflects, "I've always been excited about the exploration of genius. 'Pelé' is that story. He is an inspiration to his country."
Pelé is not the only sporting icon to enjoy screen honours in recent times. 'Rush' recently told the story of the legendary Formula One rivalry between Nikki Lauda and James Hunt. More controversially, a documentary exploring the rollercoaster career of cyclist Lance Armstrong - 'The Armstrong Lie' - is shortly to make its way to our screens too.