Abi Alton was reduced to tears as she became the latest act to be voted off 'The X Factor'.
The 19-year-old from Teesside found herself in the bottom two with Hannah Barrett on Sunday night's show after they both received the fewest votes following their performances during Saturday's Big Band show.
In the sing-off, Abi sang Ed Sheeran's 'Lego House', while Hannah performed Miley Cyrus's 'Wrecking Ball'.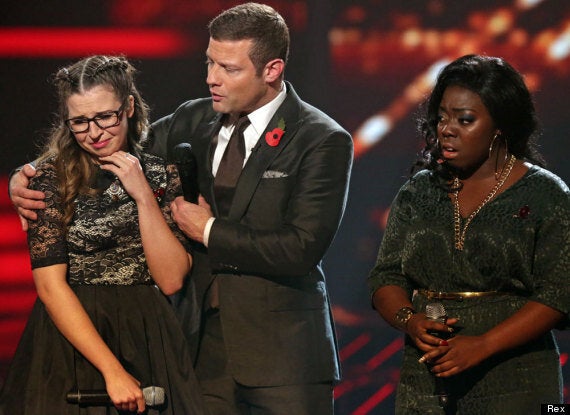 Abi Alton is comforted by Dermot O'Leary after losing out to Hannah Barrett in the sing-off
The girl's mentor, Nicole Scherzinger refused to choose between her acts and abstained from the vote, leaving it to the three remaining judges - Gary Barlow, Sharon Osbourne and Louis Walsh - to decide the girls' fate.
"I refuse to choose," she told host, Dermot O'Leary.
"They're both so unique and so special and so wonderful in their own ways, so I'm going to abstain."
In the end it only took two of the judges to send Abi home.
Gary Barlow went first,saying: "I'm just confused. I don't know how these singers are ending up in the bottom two. Girls, you did nothing wrong.
"Abi you emotionally touched me for the first time.
"And Hannah, I don't know what you need to do. I would say nothing — don't change anything because you are perfect as you are.
"I have to send home Abi."
Sharon said she was disappointed Abi hadn't shown as much emotion in all her other performances as she did in the sing off.
"It's so frustrating. You are a talented singer songwriter.
"I am so sorry to say this but I'm going to send Abi home."
After hearing her fate, an emotional Abi told Dermot: "You know, I never in a million and one years anticipated that I would get this far, and I've had the time of my life.
"I've met the most amazing people and I would never change it, so thank you."
Watch Abi and Hannah perform in Sunday night's sing-off below...

Popular in the Community