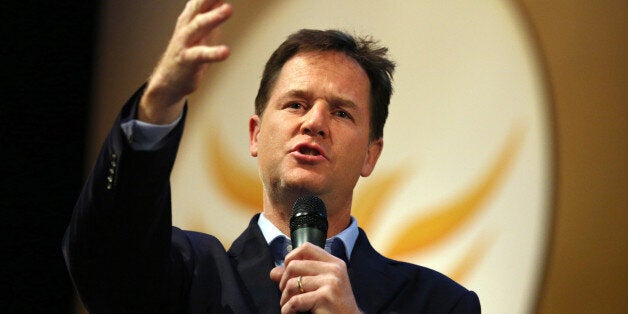 Nick Clegg has labelled Ukip and eurosceptic Tory MPs "unpatriotic" for their demand that Britain leave the European Union.
The deputy prime minister made the comments on Monday morning after it emerged businessman Paul Sykes, a former Conservative Party backer, had promised to bankroll Ukip's 2014 European Parliament election campaign.
Clegg told a press conference in Whitehall: "I think the view represented by Ukip, large parts of the Conservative Party and Paul Sykes is a betrayal of the national interest and an unpatriotic approach because it would leave many people poorer, it would leave us weaker as a country and it would throw many people out of work, and I can't possibly see why anyone thinks that that is something that in any way represents the long-term national interest."
"There are lots of subtleties in the argument about Britain's place in Europe and lots of debates about this directive or that directive and this European Commission decision or that European Commission decision," he said.
"Actually underlying them is a fundamental view - do you believe we should be in or out of the European Union? I unambiguously lead the party of In.
"The Conservative Party seems to me to be flirting with exit altogether, and the Labour Party seems to have lost the courage of its own convictions on Europe. Ukip represents the view that we should yank ourselves out of the European Union, with all the disastrous consequences for millions of people whose jobs and livelihoods depend on membership of that club."
In his last significant foray into the political arena, Sykes donated a reported £1.5 million to Ukip's 2004 European election campaign. His backing helped secure a stunning result for the party which quadrupled its number of seats from three to 12.
The businessman who has previously been estimated to be worth £650 million, has given no indication of how much he is prepared to donate this time other than to say he will do "whatever it takes" to ensure it is the largest UK party in the European parliament.
Related