'Win an iconic 'Revival' DAB Roberts Radio worth £160 and a copy of ALAN PARTRIDGE: ALPHA PAPA on Blu-ray, DVD and Download December 2 courtesy of STUDIOCANAL'
All you have to do is simply follow @HuffPostUKPics on Twitter, retweet the specific competition tweet and a winner will be picked at random.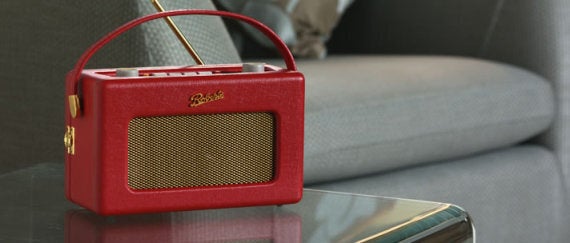 See the terms and conditions below:
By entering this prize promotion, you accept and agree to be bound by the following terms and conditions:
1.The prize promotion is open to all UK residents aged 18 years or over except employees (and their families) of AOL, and any affiliates or subsidiary companies, as well as representatives or agents of AOL and anyone else who may be involved or connected with the prize promotion. Any entries submitted by agents or third parties will be invalid and will not be accepted by the Promoter.
2.You may enter this prize promotion by following HuffPostUKpics Twitter account and Retweeting the Competition.
3.There will be 1 winner of this prize. The prize will consist of a 'Revival' DAB Roberts Radio worth £160 and a copy of ALAN PARTRIDGE: ALPHA PAPA n Blu-ray.
4.The prize promotion closing date is [Friday 24th November 2013] (the "Closing Date") and any entries received after the Closing Date will not be accepted by the Promoter.
5.If you are notified of a winning entry, you must confirm acceptance by both telephone and email to claim your prize. If you do not reply to confirm acceptance within 5 days of being notified as a winner, we may offer your prize to someone else.
6.Only one entry per person is permitted into the prize draw.
7.Submission of entries will not constitute proof of receipt and no responsibility will be accepted by the Promoter for entries or acceptances which the Promoter does not receive. The Promoter shall not be liable for any loss or corruption of data in transit. No responsibility will be accepted for entries or acceptances which are lost, delayed or damaged in the post or elsewhere. Illegible, incomplete, late or defaced entries will be disqualified.
8.AOL intends to film, record, photograph and/or interview attendees of the Event (the "Recording") the product of which may be used by the AOL and affiliate for commercial purposes. You consent to the fact that AOL may use, transcribe, alter, adapt, or edit the Recording and market, licence, assign and/ or exploit the Recording in any way entirely at AOL's discretion. You grant AOL the right to use your image and name in connection with all uses of the Recording.
9.You assign to AOL all present and future copyright and performance rights and any other rights in all media in your contribution to the Recording throughout the universe for the full period of copyright and any extensions or renewals thereof. All media shall include but not be limited to internet, television, video, publishing, and radio.
10.You waive in respect of the Recording all moral rights pursuant to the Copyright, Designs and Patents Act 1988 and under all similar legislation from time to time in force anywhere in the world.
11.The prize(s) must be taken as offered. No cash equivalent or other alternative prize(s) are available in whole or in part except as provided for in these terms and conditions.
12.All prize(s) are non-transferable and where prize(s) consist of tickets to events, all such tickets are non-refundable. The Promoter reserves the right to substitute prize(s) of an equivalent value should the prize(s) become unavailable for any reason. If any winner is not able for whatever reason to accept the prize(s), then the Promoter reserves the right to award the prize(s) to another participant.
13.A list of winners' names and locations can be obtained by sending a SAE to the Promoter after 5 December 2013.
14.The winners agree to participate in any publicity or other such promotional activities which the Promoter may reasonably require in connection with the prize promotion and the Promoter shall have the right to use each winner's name, likeness, image, voice and biographical information for advertising and promotional purposes in connection with the prize promotion in all media without further notice and without the need to make any payment to any winner for such use.
15.The decision of the Promoter is final and binding and no correspondence will be entered into regarding the outcome of the prize promotion.
16.AOL is not liable for any loss should the Huffington Post & Russell Brand interview at Shoreditch House is cancelled, delayed or disputed in anyway.
17 Studio Canal UK and Huffington Post do not accept any responsibility for late or lost entries due to the Internet or email problems. Proof of sending is not proof of receipt. Entrants must supply full details as required on the competition page, and comply with all rules to be eligible for the prizes.
18 No responsibility is accepted for ineligible entries or entries made fraudulently.
19 Unless otherwise stated, the Competition is not open to employees of: (a) the Company; and (b) any third party appointed by the Company to organise and/or manage the Competition; and (c) the Competition sponsor(s).
20 This competition is promoted by Huffington Post. Huffington Post's decision is final in every situation and no correspondence will be entered into.
21 Huffington Post reserves the right to cancel the competition at any stage, if deemed necessary in its opinion, and if circumstances arise outside of its control.
22 Entrants will be deemed to have accepted these rules and to agree to be bound by them when entering this competition.
23.Promoter: AOL (UK) Limited, Shropshire House, 11-20 Capper St, London, WC1E 6JA.
Related