The London Underground will run 24-hours at weekends from 2015.
Tfl have announced five lines - the Piccadilly, Jubilee, Victoria, Northern and Central Lines - will provide an all-night service from Friday morning to until Sunday night.
The plan is part of a range of initiatives although the moves will result in the loss of 750 jobs.
London Mayor, Boris Johnson, said: "Now it is the time to take the Tube to the next level and so for the first time in London's history, we will provide and regular 24-hour 'Night Tube' service at weekends.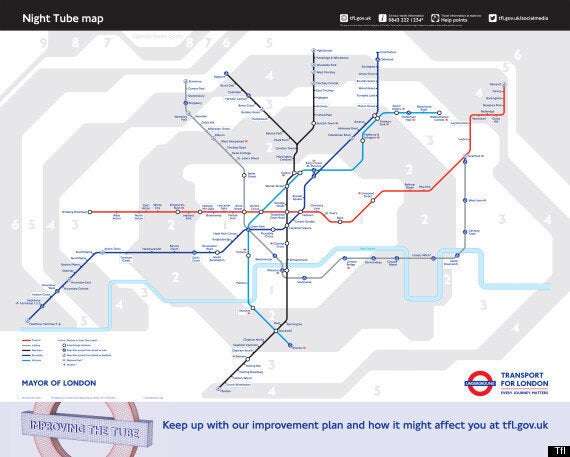 "This will not just boost jobs and our vibrant night-time economy, but will further cement London's reputation as the best big city on the planet in which to live, work, visit and invest."
But the plans will also lead to to a reduction of around 950 jobs although 200 will be created.
Tickets will be available from staff on platforms rather than in offices.
A series of other initiatives were also announced, including contactless bank card payment technology from next year, extended Wi-Fi coverage at underground stations, improved ticket machines, and staff based in ticket halls and on platforms rather than in ticket offices.
All Tube stations will continue to be staffed, and billions of pounds of investment will continue, said Mayor Boris Johnson and LU managing director Mike Brown.
"LU is committed to delivering the reduction in operational staff numbers without any compulsory redundancies," said a statement.
The plans will deliver savings of around £50 million a year, or £270 million over the term of Transport for London's business plan to 2020/21.
Mr Brown said: "People are at the heart of this vision - our customers and staff. My commitment to London is that all Tube stations will continue to be staffed and controlled in future, with more staff visible and available to help customers buy the right ticket, plan their journey and keep them safe and secure. We will continue to make the Tube more accessible and provide assistance at stations for all our customers who need it.
Story continues after the slideshow...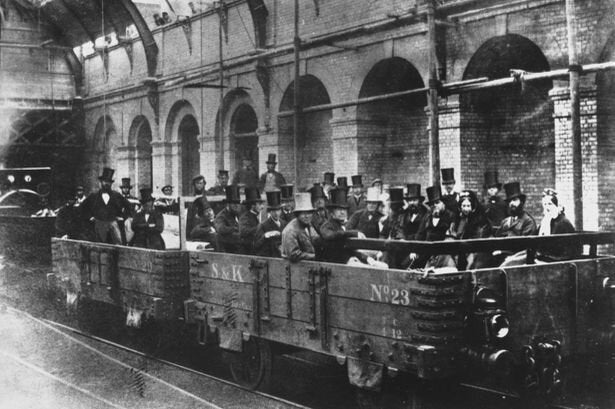 London Underground
"Rebuilt stations, new trains and signalling systems mean we are now running some of the most frequent metro services anywhere in Europe. To meet the challenge of London's growing population and development, we must continue to invest and deliver even more efficiently in future.
"Our vision is for a Tube network and service that is truly fit for London and our customers in the 21st century - a better face-to-face service at our stations, a 24-hour service at weekends, with easier and more personalised ways to plan and pay for journeys, on and off our network."
Manuel Cortes, leader of the TSSA rail union, accused Boris Johnson of being the "hypocrite of the decade", saying the announcement would lead to the closure of all 268 Tube ticket offices by the end of next year.
"It beggars belief that the Mayor who was elected in 2008 on a pledge to keep open every ticket office is now planning to close every single one, with all that means for safety and jobs.
"We shall be launching a joint campaign with Labour to reverse this decision and we urge all Londoners to back this campaign to prevent Boris's Long March to the leadership of the Tory system on the back of his lasting legacy of a second class Tube network.
"He will leave behind the most expensive Tube in the world and one of the most badly supervised with mobile station supervisers replacing permanent supervisors."
Shadow London minister Sadiq Khan said: "The mayor of London has today ripped up his manifesto promise to the people of London. As a result of his plans, Londoners will feel more anxious travelling at times when stations may be deserted.
"Commuters will have nowhere to turn when their Oyster card is lost, stolen or broken. It will make the daily commute more difficult for everyone but, more worryingly, there are serious concerns about whether there will be enough staff at London's busy stations to respond in emergency situations.
"We support looking at the way TfL staff work so that it reflects the changing needs of the modern underground system, but the mayor is using this as an excuse to cut staffing levels, which is reckless and irresponsible."
The Rail Maritime and Transport union raised the threat of industrial action.
General Secretary Bob Crow said: "No matter how this is dressed up by Boris Johnson and his officials, today's announcement is all about slashing almost £250 million from the annual London transport budget and the proposed cuts will decimate staffing levels and hit the most vulnerable users of tube services the hardest.
"The mayor must believe he is some sort of magician if he thinks he can slash jobs and still run safe services when everyone knows that staffing has already been cut to the bone while passenger demand continues to rise.
"Throwing in the plan for night time operation at the weekends is just a smokescreen to try and camouflage the real issue which is a savage cuts to jobs, access and safety.
"Any move to run through the night would require huge additional capacity and staffing and wholesale changes to fleet and infrastructure maintenance that would require the agreement of the Tube unions and the issue has only been flagged up today as a diversion from the massive cuts agenda.
"Axing staff and ticket offices is part of the drive to a faceless, automated Tube where you take your chances the moment you step onto a station, a platform or a train.
"We will work with sister unions and the public to fight these plans and that means using every campaigning, political and industrial tool at our disposal and our executive will be looking at a timetable and a strategy for that campaign, including a ballot for industrial action, later today."
Raising a point of order in the House of Commons, Labour MP John McDonnell (Hayes and Harlington) said the job cuts would undermine passenger safety on platforms.
He said: "In the last half an hour the mayor has announced, although a welcome extension to the Tube service at night time by a few hours at the weekends, 750 job cuts.
"Now that clearly relates to the deal he did with the Department for Transport and with the Treasury in the Budget for this year and clearly the Government has a role in the scale of job cuts that is taking place on the London Underground, which will undermine safety on platforms for many of our constituents.
"I wondered whether we were to receive any notice of a statement at all from the Government?"
Speaker John Bercow said he had not been notified by any Government minister that there would be a statement in the Commons today.