It's Question Time, but not as we know it.
Just three panellists turned up for Thursday night's recording of the BBC's flagship debate.
Telegraph blogger Tim Stanley and broadcaster Joan Bakewell were held up after a fire delayed their train from London up to Salford, David Dimbleby told the audience.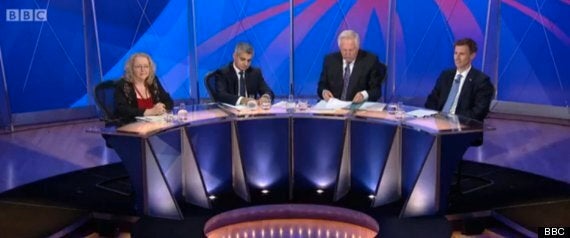 The Question Time 'mini panel' in all its glory
"You may have noticed that three panellists we are, and three we shall remain," Dimbleby said.
The two stranded panellists staged their own version on Twitter:
It left the remaining panellists, health secretary Jeremy Hunt, Lib Dem peer OIly Grender and Labour's Sadiq Khan, to address a specially-assembled audience which was divided into two camps, under 30s and over 60s.