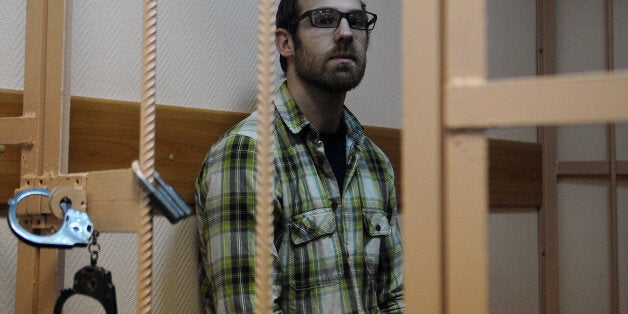 There should be "frank discussions" about future Greenpeace protests following the arrest of activists and journalists in Russia, one of the Britons freed from detention has said.
Freelance journalist Kieron Bryan, one of the "Arctic 30" arrested by the Russian authorities over a protest against oil drilling two months ago, said his first trip with the organisation had been a "baptism of fire".
Greenpeace UK's executive director John Sauven insisted all those who had been on the Arctic Sunrise vessel had been given a proper briefing about the risks involved and stressed that the organisation would not be intimidated, although there were no plans for another protest in Russia.
The Arctic Sunrise was seized by the Russian authorities and 28 activists and two freelance journalists on board were arrested. All six Britons involved have been granted bail.
The group were originally charged with piracy but the authorities said this would be downgraded to hooliganism.
Mr Bryan told BBC Radio 4's Today programme that the group were briefed about the risks before the trip: "We discussed the legal implications of doing a protest in Russia. I remember distinctly piracy being mentioned and the laughter that followed.
"I can't stress what a shock it was to everyone. We all thought that we would get a rap on the wrists and then be sent away, so to find ourselves facing 10 to 15 years was a very difficult time."
Mr Bryan said Greenpeace should consider the increased political pressure that would apply on future protests relating to oil.
He said: "I think there has to be some honest discussion, definitely, and I would love to be part of the discussion with Greenpeace about what happens in future. This was my first trip, so it was a baptism of fire.
"But I do think there needs to be some consideration if the changing landscape politically on the global scale ... The desire for oil is getting greater and as that happens the political pressure put on people like myself and Greenpeace will increase. So, I hope there are some frank discussions."
Mr Sauven told the programme: "People were given a proper briefing and all the potential issues that could arise were in that briefing."
Asked if the organisation would repeat the protest, Mr Sauven said: "We have got no plans to do that. But ... when half the oil spills that happen in the world happen in Russia, should we be silenced? Should we be intimidated? Should journalists not go and report that and expose what's going on?
"This was an entirely peaceful process. We have been going to the Russian arctic for nearly three decades. We've been up there campaigning against Russian whaling, we've been up there actually in far more challenging situations, even campaigning against Russian nuclear testing when we ran a campaign to get a ban on nuclear testing around the world - a ban that we won, and a ban on whaling that we won.
"I hope that we can also protect the Arctic but we are not going to do that if we are intimidated or silent."